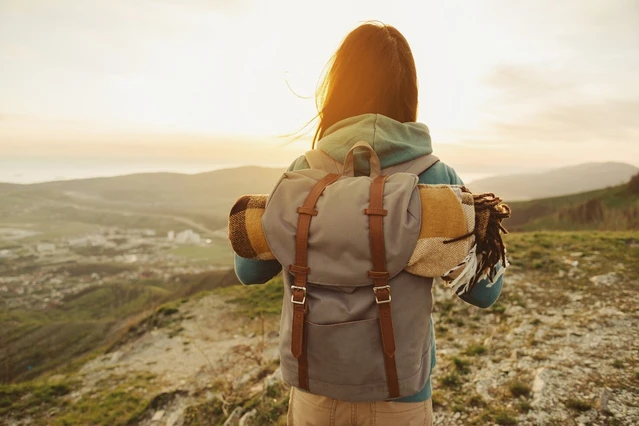 Are you a free spirit and prefer to travel with just your luggage? Do you want to be able to decide even at the last minute what routes to take and what things to do and therefore choose to travel without company? Are you looking for a holiday to devote just to yourself to recharge your batteries, even if only for a few days? We have some suggestions that can help you go it alone.
Increasingly trendy, solo travel is the most suitable mode of travel to satisfy a need for escape or a desire for autonomy. People are increasingly travelling alone because the commitments and hectic life of modern times make it difficult to get everyone to agree on a common holiday plan. One moves forward, without friends and without one's partner, in order to have some time to oneself, to let one's emotions sink in, to try new experiences, to deepen certain sides of one's personality and, with a bit of luck, even to be reborn.
That inner voice "I travel alone" encapsulates a transformative need as well as a desire to get to know new worlds, situations and people who can surprise you along the way. Travelling alone can be a source of great inspiration and new friendships, while it can help you redefine your life goals.
Solo travel: wellness experiences and activities to care for body and soul
Your holiday will be synonymous with relaxation and peace of mind if between excursions and explorations you manage to treat yourself to a gentle pampering (cocoon effect) as a personal gift. How often in your everyday life do you put others before you, perhaps feeling guilty if you allow yourself the luxury of lazing around for a few minutes and taking time just for you? Thanks to a holiday on Lake Garda, you can overcome this inner conflict: there are many opportunities for escape in the land of vineyards and rolling hills.
By booking an individual yoga lesson in a lemon grove, for example, you will allow yourself the luxury of having a dedicated professional trainer, capable of adapting the practice of this wellness discipline to your psycho-physical condition and level of experience, and you will have the opportunity to immerse yourself in a unique location, a lemon grove facing the lake, amidst the scents of citrus fruits and the silence broken only by the waves of the water. Or you might prefer a flowery portico facing the swimming pool as the backdrop for your individual open-air yoga lesson: an hour of privacy with a dedicated instructor who will welcome you in a private space, in the tranquillity of fragrant flower gardens, in a splendid panoramic position on the Desenzano hills. Or under the shade of the trees of a private residence with an individual yoga lesson in nature.
Remaining within the sphere of gentle practices, you could choose to take refuge in an elegant and refined studio to practise a one-to-one Pilates session in a room with a lake view: in this individual studio Pilates lesson with reformer a deep sense of relaxation within you will be accompanied by an unparalleled physical relaxation, also thanks to the spectacle of Lake Garda and its beneficial presence. The same studio also offers a pure treatment session: by booking an individual Ohashiatsu practice you will entrust yourself to the energetic hands of an instructor recognised for her professionalism and sunny disposition.
On the other hand, you cannot overlook more contemplative or meditative wellness activities such as SUP yoga at sunset or the Sound Healing Experience: both are capable of stirring your emotions, the former among water, waves, yoga and the colours of the sunset, the latter through sound; they will be a gift to yourself if you are able to put yourself out there.
Outdoor experiences and activities just for you: solo travelling in action!
Are you oriented towards a dynamic and active trip? Would you like to try a new sport that takes you out into nature? Then you could go windsurfing when everyone is still sleeping by booking a one-to-one windsurfing lesson at dawn, or when most have already retired by reserving a one-to-one windsurfing lesson at dusk for you. You would be the sole protagonist of this water sports experience, in an exclusive version precluded to most. If, on the other hand, you are a keen sportsman and would like to try several activities in one day, the Free Ride Experience: water and adrenaline is for you, allowing you to try kitesurfing, wingfoil, windsurfing and SUP on the surface of Lake Garda.
Mountain lovers can instead embark on an outing with a mountain guide to explore the peaks surrounding Italy's largest lake. Similar to a Via Ferrata but with unique characteristics, Scrambling: the Sentiero degli Scaligeri, will test your courage in a pure adrenaline experience. Or you can ride through the hills of the lake, discovering its ups and downs and breath-taking panoramas, riding with an e-bike by booking an exclusive outing with an accompanying professional guide, a truly uncommon Mountain E-Biking experience: an MTB guide at your disposal for four hours will train your muscles, allowing you to reach paths and itineraries unknown to most.
Travelling to Lake Garda alone: between nature, animals and self-discovery
When you take a trip on your own to spend a few days away from everyday life, you are looking for elements that are absent in everyday life, such as contact with nature and animals. Organising a holiday at Lake Garda makes it possible to satisfy this need. By booking an individual horse-riding lesson for experts or beginners, you can experience horse-riding immersed in nature and fully experience the area, the Valtenesi and its beautiful hills. Stretching your gaze between the lake, hills and vineyards and losing yourself in the calm of a holiday in nature will thrill you. Round off the day with a dinner-tasting in the vineyard, under the stars, immersed in the vineyards, you will enjoy the flavours of the area in the company of other diners. A convivial outdoor experience, perhaps also an opportunity to make new friends.
Finally, for those who feel they are at a crossroads and wish to allow a new inner vocation to emerge, our mental coaching proposals allow them to embark on a 'journey', inside and outside themselves: Me Time. An individual Mental Coaching session in Garda Trentino or, for those who have already tried their hand at self-growth practices, Me Time. A one-day retreat in nature between sport and mental coaching.
For travellers, sportsmen and women and professional athletes who wish to deepen their knowledge of psychological and motivational issues related to athletic activity, we offer Golf with Sport Mental Coach one to one, in which golf is a metaphor and a tool for addressing issues and topics useful for improvement in any sporting discipline. This is aimed at sports fanatics who aim to achieve highly competitive goals.
Dear solo travellers, travelling alone now to Lake Garda will allow you to fully express yourself. Lake Garda is waiting for you and you alone to respond to your thirst for independence and personal freedom.