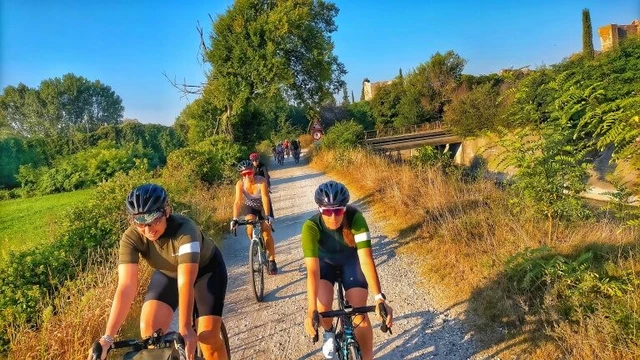 The bicycle is a versatile means of transport that can satisfy the different needs of travellers. Cycling alone or in company, in fact, is a way to reconnect with nature, to give value to the time you invest through an unforgettable, immersive and non-repeatable experience, all while respecting the environment. An ideal solution for discovering the fascination of destinations long dreamed of, or spotted at the last minute, taking advantage of a weekend. Bicycle hire on Lake Garda, for example, is an exciting idea for families, couples, groups of friends and solo travellers - let's see how to organise and what to expect from this activity.
Bicycle rental on Lake Garda: how it works
Lake Garda is a vast territory full of attractions for travellers: sport, wellness, gastronomy... there are truly experiences for all tastes! Some choose it as a destination for a bachelor or bachelorette party, others for a solitary getaway in nature. Everyone appreciates its varied landscapes, which allow you to watch a romantic sunset, but also to look out over wild and stunning views. All the more reason to rent a bicycle and set off to explore Garda!
There are many companies that offer this service and give the possibility of choosing the type of bike best suited to the route to be undertaken. In most cases, the vehicle can be booked directly online or through an app: just choose the dates and the type of bike, then all that remains is to set off.
Or is it? Organising a bike ride on Lake Garda on your own could prove more complex than expected, especially if you are not familiar with the area. Don't worry, there are no real risks, except that of missing out on something: without a guide, in fact, you are likely to find yourself riding only the most frequented paths and not really experiencing the place visited in all its complexity and beauty.
The solution? Choose a NowMyPlace bike tour with a guide
NowMyPlace bike tours allow you to really discover the area, without making any compromises, perhaps even via secondary and little-trodden paths. If you're thinking of those little roads that at some point open up to views so stunning that they make Instagram filters pale, you get the idea. But a bike tour is not just that, of course, as it will also allow you to get into the spirit of the place and absorb its essence, while having fun and spending time being active and happy.
How bike tours work
Bike tours offer a wide variety of cycling tours to suit the needs of families and groups, of more or less sporty people and of different ages. You can choose from 26 destinations in the Lake Garda area: mountain bike, mountain bike, road bike or e-bike routes and of course bike hire is included.
During the tour, you will be in the company of professional guides, experts in the area, who will guide you to discover places off the tourist routes.
Discover our bike tours on Lake Garda
Art, nature and history come together on the shores of Lake Garda, seasoned with good local cuisine. The bike tours are truly unique experiences because they mix these elements as much as possible, so that participants can enter into the spirit of the place and take it with them when they return home. If you feel like getting on the saddle and have already packed your rucksack to set off, here are two proposals we recommend: a bike tour with gastronomic tastings and one for those who only relax when it comes to using their muscles and pushing their limits.
Bike Tour Experience at the Old Mill
This bike tour for small groups is ideal if you are looking for an experience that combines being outdoors and discovering new flavours. The route runs along an old military mule track on the west coast of the lake. Here, in the Alto Garda Bresciano Park, is the municipality of Tignale, consisting of six small villages and a destination for slow tourism all year round. During the tour you can admire unique landscapes, breath-taking peaks, historic olive groves and beaches that embellish this area. An experience that does not lack adventure, designed for those who are already familiar with dirt roads, but which does not require excessive training.
The Bike Tour Experience at the Vecchio Mulino also includes a stop at an agritourism to taste typical local and seasonal dishes, based on wild herbs, vegetables and cheeses, respectively cultivated and produced by Flavia and her husband, owners of the structure with its welcoming family atmosphere.
Triathlon Bike Tour
For those who love challenges, sweat and the satisfying feeling you get when you have earned the spectacular view from the summit one pedal stroke after another, there is the Triathlon Bike Tour. The name already says a lot: this is a route for trained athletes who can cover medium to long distances by mountain bike and who are familiar with dirt roads. The tour, in fact, takes place on secondary paths and mule tracks, which are part of the XTERRA world racetracks, along the west coast of the lake. The town of Toscolano Maderno, on the Riviera dei Limoni, is the heart of this half-day tour. If you are looking for thrills, do triathlon or mountain biking, then this is the bike tour for you.
Why choose bike tours on NowMyPlace?
The NowMyPlace bike tours are a fun and unique way to get into the territory in an authentic and profound way. This is because all professional guides are always locals and your safety is paramount, even when the terrain is impassable, you won't run any risks and you can always count on the assistance of our guides to solve any bike problems. Furthermore, by choosing our proposals, you can enjoy a group experience and meet other people who are as passionate about bike tourism as you are! But these are not the only motivations.
When we designed the routes, in fact, we thought about what really allows you to experience a place and the answer was twofold. First, knowledge can pass through the discovery of gastronomy and history, which is why most of our biking proposals include a gastronomic break. Second, there are stops during which the guide provides detailed historical explanations, useful to get an even better idea of the place you are in.
Bicycle hire is an ecological and immersive way to experience Lake Garda. The great thing is that you can do it at your own pace, choosing the excursion you prefer, with the expert guidance of those who know the lesser-known corners of this splendid area.