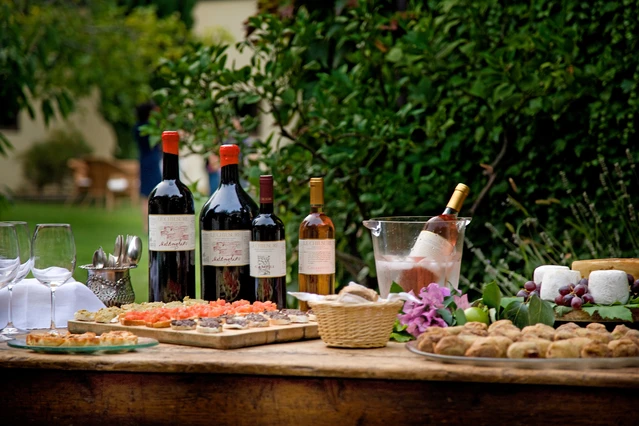 Lake Garda specialities: here are all the typical dishes
Peschiera, Sirmione, Desenzano, Valtenesi are some of the best known places on the shores of Lake Garda. From the Brescian coast to that of Trentino, this unique area with its infinite variety of landscapes is also visited and appreciated for its gastronomic traditions. The specialities of Lake Garda, in fact, include fine wines and tasty foods, as well as delicate and characteristic olive oils: getting to know the colours, flavours and aromas enriches travellers and puts them in touch with what the most authentic communities have to offer.
NowMyPlace proposes a series of food and wine experiences through which you can combine the discovery of enchanting landscapes with the tasting of local wines, dishes and preparations. Among farmsteads and organic food producers, you will set off on itineraries that will engage with all five senses!
The gastronomy of Lake Garda: what to taste on a trip
The typical Garda dishes combine the traditions of three different Italian regions: Veneto, Trentino Alto Adige and Lombardy. To mention all the excellences would be impossible, and certainly all deserve a taste: from truffles to sausages, cheeses to spirits, wines and the juicy lemons of the riviera. We recommend some of them:
Sweet and tasty broccoli from Torbole sul Garda;
Saffron from Pozzolengo, in the province of Brescia;
Pearà di Verona, a sauce that traditionally accompanies mixed boiled meat and cotechino;
Broccoletto di Custoza, of which only the leaves are eaten;
Polenta di Storo, with flour produced in the province of Trento;
Ciuìga del Banale, a typical Trentino sausage prepared with pork and turnips, a Slow Food Presidium;
Carne salada.
Lake fish, the absolute protagonist
Sardine, perch but above all whitefish are some of the lake fish that can be enjoyed on the shores of Lake Garda. The lavaret, in particular, also called whitefish, lives in deep waters and reaches 30-40 cm in length; it is a sought-after fish and the marked flavour of its meat is combined with wild herbs and spices. It is also eaten smoked, although people generally prefer to cook it baked or roasted.
Typical Lake Garda sweets
If you love sweets, on Lake Garda you can delight in Fugazza, Bussolà, rose cake and many other delicacies, such as Brescian biscuits, Spongadì from Tremosine sul Garda or Chisöl from Lonato del Garda. Dried fruit preserved in honey is also very common.
Garda wines
Vine cultivation and wine production are two characteristic activities. From the area between Salò and Pozzolengo, in fact, come white wines such as Lugana Doc, Benaco Bresciano Riesling and San Martino della Battaglia, as well as red and rosé wines, such as Rosa Valtenesi, ideal to accompany fish dishes.
Enjoy the specialities of Lake Garda with our food experiences
Getting to know Garda, its villages and valleys, means savouring the gastronomic arts handed down from one generation to the next: this is possible in agriturismo, farms and ancient farmhouses, but also in home restaurants and thanks to home chefs, two formulas that are now increasingly common and appreciated.
For travellers who want to immerse themselves in these places and leave room for sensory experiences, NowMyPlace has selected proposals that will surprise even those accustomed to food and wine. The itineraries proposed for discovering the flavours of the area range from visits to wine cellars for tasting fine wines to cooking classes in unique locations, to make typical Garda dishes with one's own hands and then enjoy them all together.
A few examples? In Sirmione, a food tasting experience among the local flavours of Lake Garda awaits you in an old farmhouse where you can visit the vineyards, the wine-making basement and the underground cellar. At the end of the tour, of course, there will be lunch with products from the farm and the local area: vegetables from the vegetable garden, local cured meats, cheeses from the Brescian Valleys, and Garda olive oil.
On the hills of Padenghe sul Garda, The Slow Food Experience is dedicated to those seeking a familiar atmosphere, like that of a farmstead turned wine resort. In a lounge facing the fireplace (in the cold season) or on the open-air patio (in spring and summer), you will experience a quality itinerary, with wines and zero-kilometre food: four types of Riserva wines, paired with as many hot dishes, typical of the area, prepared by the house chef.
Also in Padenghe, the lunch-tasting in the wine cellar is the ideal way to get closer to the area's wine products, with four wines: Sant'Emiliano Valtènesi Rosé, Lugana Catulliano, Ottocento San Martino della Battaglia Doc, and Torrazzo Valtènesi Rosso, all accompanied by chopping board products from the Bottega Contadina, the farm's zero-kilometre food and wine brand. This will be followed by a three-course lunch, again based on typical dishes.
What about dinner under the stars? You can do it in the vineyard of a farmhouse in Sirmione, after a tour through the vineyards, the wine cellar and the underground cellar. Dine amidst the rows of vines, among the grapes of Turbiana, with friends, in a group, or in total privacy.
Spirits and liqueurs are another excellence of Lake Garda: this is why we have decided to propose an entirely dedicated tasting, in a prestigious Valtenesi farm, where you can get to know all the grappas and liqueurs produced and bottled on site.
Discover Garda food and wine with NowMyPlace
We must admit that our mouths watered, and we believe yours did too, after all this talk of culinary delights and tastings. We are convinced, in fact, that the discovery of a rich and varied territory such as Lake Garda cannot be separated from the knowledge of food and wine specialities, which contribute to defining the identity of places and, at the same time, are a reflection of it. This is why we have also included this element in other routes, such as mountain bike or e-bike tours. In this way, travellers can truly enter into the spirit of the places, also listening to the stories of the guests and owners of wineries and farmhouses: a total immersion in taste and beauty.