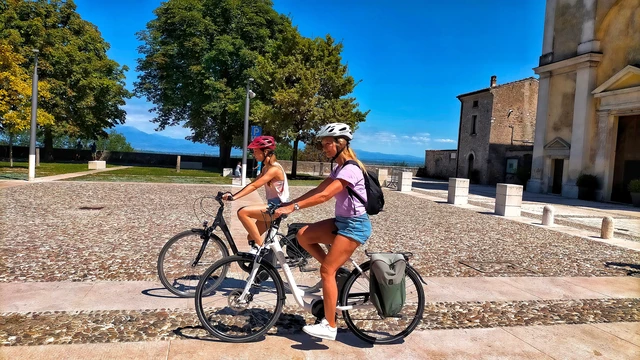 Water sports, activities in nature, gastronomic itineraries and discovering the history of the area: different experiences each time, which satisfy different travellers and allow for proposals suitable for all ages. This is why discovering Lake Garda with children and teenagers is an excellent idea for spending free time and holidays with the family! Excursions in the mountains, walks in the woods, boat tours, yoga lessons or tastings are some samples of the rich family-format offer of NowMyPlace. Let's discover it together.
Experience Lake Garda with children: the proposals of NowMyPlace
Meeting the needs of all members of the family can seem like a feat when it comes to travelling and choosing a place where everyone can enjoy unforgettable experiences, even the little ones. Lake Garda, besides being a true jewel of nature, can be visited and experienced without age restrictions, in a way that is always different and always satisfying. There are, in fact, so many activities that you can enjoy as a family: we have selected ten to give you a taste of the variety of experiences you can choose from for a trip to Lake Garda in the company of children.
1. Bike tours for the whole family in Toscolano Maderno
Ready to get on an electric bike? Lake Garda tours with e-bikes will let you discover hidden bits of paradise. A proposal for the whole family is the tour to Toscolano Maderno, recommended for ages 6 and up and suitable for people with a good physical condition, since even though it is a short route: a 15-km track that can be covered in about two hours. It starts from one of the most important sport centres with e-bike hire on the Brescia coast and pedals along flat white roads and lakeside cycle paths until crossing the via Cartiere and the historic town centre.
2. Trekking on Lake Garda with children
Another versatile activity, which easily adapts to the needs of a family with children and young people, is trekking. This outdoor discipline offers direct contact with nature at a slow pace. Walking on the paths that run along Lake Garda will lead you to the discovery of panoramic viewpoints of great visual impact, from which you can admire the lake and its shores in peace and quiet. You can choose treks of a short, medium or long duration, suited to the level of physical fitness and age of those taking part. The light trek to the Church of San Bartolomeo, for example, is ideal for families with children aged 12 and up and will amaze you with views of the Gulf of Salò.
3. Nature walks
On Lake Garda it is possible to admire a great variety of plants, due to the coexistence of different landscapes and climates. A nature walk in the company of a botanist is the perfect way to get closer to the biodiversity of the area. On the western shore of the lake, children and teenagers will be guided by an expert on a journey through Mediterranean and Alpine plants, in the centuries-old park of an 18th-century villa. The experience is suitable for families with children from 3 years of age and children from 11 years of age.
4. Farm snack
Tastings might seem like events that only involve adults, but this format can easily be revisited and opened up to families. In the heart of the Valtènesi, for example, you can immerse yourself in an agricultural and natural environment where you can rediscover genuine products. For adults, there will be four different local wines, while for children there will be organic juices, all paired with platters of cold meats, cheeses, focaccia and crostini. The farm snack is designed for everyone: children from 2 years of age can participate.
5. Tasting by the pool
Another proposal is a tasting at the natural organic pool, a full immersion in nature to experience a whole day among flower beds, to the relaxing song of birds, enjoying the peace of the place, while children play freely.
6. Creative activities for the whole family
A family holiday on Lake Garda can also be a time to do something creative or artistic. NowMyPlace has thought of a rich offer of such experiences: among the arts and crafts workshops, for example, you will find drawing and clay workshops, where the little ones can express their creativity even on holiday.
7. Excursions on horseback
Taking children and teenagers horseback riding is an experience they will not easily forget. Among the alternatives offered by NowMyPlace is the gnome forest ride, where the little ones can familiarise themselves with the ponies in small groups (the experience is designed for a maximum of three participants, from 1 to 6 years of age).
From 4 to 7 years of age, there is the Valtenesi hill walk, riding ponies, while to explore the area of Toscolano and Gargnano you can choose the horseback excursion through historic places and olive groves. This experience is suitable for people who already know how to ride a horse and who are over the age of 14.
8. Photo-trekking with children from 11 years old
Nature offers great emotions. So why not immortalise the Garda landscapes during a photo-trekking for the whole family? You can do it at the Rocca di Manerba, on the west coast: accompanied by an expert photography guide, you will move through the hilly landscapes to discover unspoilt places inhabited by many animals living on the banks and in the woods. The route is also recommended for absolute beginners, who want to familiarise themselves with nature photography, and suitable for families with children aged 11 years or older.
9. Yoga for children
Physical activity is a game for children, who also like to try their hand at something new and unexpected. Why not spend a different morning or afternoon, then, doing yoga with the family, in the green surroundings of Lake Garda?
You can choose between shared experiences, intended for everyone, in Padenghe or Desenzano del Garda, or specific proposals for the youngest, from 4 to 12 years old.
10. Family Day Adventure
Fancy spending a day with the family, but far from the usual clichés? We have just the solution for you! The Family Day Adventure, for groups of 4 or 6, will allow you to have a qualified instructor at your disposal, with whom you can practice activities such as kitesurfing, windsurfing or other water and land sports. The experience, for families with children from 6 years of age, also includes a trek to get to know the area better and have fun all together.
Why choose NowMyPlace proposals for the family
Family activities are tailor-made experiences for children and young people, allowing them to have fun together with adults and to spend quality time together, exploring not only the area but also themselves, thanks to group activities, precious moments to experience interpersonal relationships. In fact, contact with nature, which is constant at Lake Garda, makes it possible to strengthen ties and test oneself with small challenges that help one grow. All in maximum safety, because the group is always accompanied by professional instructors.
Tours can be a time for your family only or an opportunity to get to know other travellers, with whom you can share the experience, depending on the number of participants.