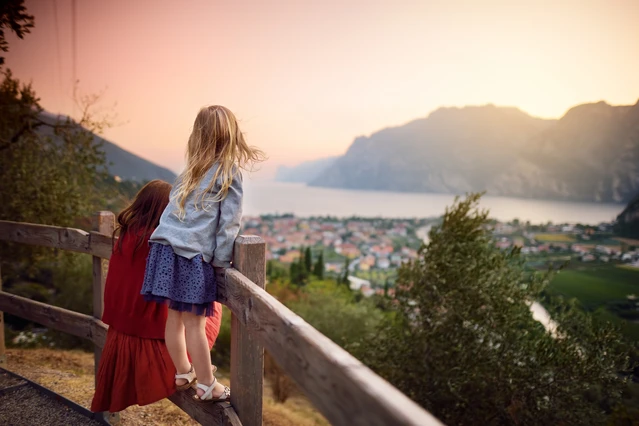 Discover a family holiday at Lake Garda
Can a family holiday on Lake Garda be just perfect? Of course it can. There are plenty of activities on the lake that everyone can enjoy, including toddlers and teenagers.
The area is beautiful and offers many opportunities to enjoy and explore the area: from mountain treks to horse riding, from wine tasting to water sports. For families, NowMyPlace has structured proposals that allow you to spend your free time in relaxation, or in adventure, depending on your preferences: boat tours, for example, that will give you a different perspective of the shores of Lake Garda, but also photo-trekking or days spent on a farm. And not only in summer: on Lake Garda, in fact, you can have fun in every season.
Family holidays at Lake Garda: outdoor activities with NowMyPlace
Looking for a place to spend unforgettable moments with the whole family? Lake Garda is ideal if you are travelling with children of all ages. Amidst hills, mountains and lakeside paths, there is the opportunity to enjoy outdoor activities - long walks, horse riding or mountain biking, and water sports - as well as being indoors. NowMyPlace proposes a series of outdoor experiences ideal for families and children, to spend an unforgettable summer in a landscape that alternates natural wonders with small villages where time seems to stand still. Let's see them all in detail.
Walking and trekking
Among the outdoor proposals of NowMyPlace, the lakeside walk in Bardolino, on the east coast, will allow you to reach the sanctuary of the Camaldolese monks and admire the entire lake from a privileged vantage point. This is an experience suitable for teenagers who can't wait to discover the world, and which can be alternated with a day in the mountains, in the Brenta Dolomites, accompanied by an expert mountain guide, to go trekking in the woods and approach rock faces.
Boat trips and water sports
For the little ones, a sailing trip on the lake can be fun. From Moniga, the skippers will take you towards Sirmione and the Desenzano basin, to admire beautiful landscapes on the horizon such as the Grotte di Catullo, the Valtenesi hills and the medieval castles of Padenghe and Moniga. Of course, lunch and a snack on board and a relaxing dip will not be missed out.
By the way... why not be tempted by a water sport? In the Campione area, there are basic windsurfing courses for the whole family: together with qualified instructors, you can approach the activity for the first time or improve your style if you are already experienced. Either way, you will always be followed step by step.
Relaxation, bike tours and animal walks
If you are looking for some relaxation, a yoga session in Desenzano del Garda could be the right choice. The experience is open to all, from ages 4 and up, and is specifically designed to bring the little ones closer to the discipline. In fact, the names of the asanas, the positions you work on, have been reinvented in a naturalistic key. If, on the other hand, you love cycling and enjoy being outdoors, you can book a bike tour in the Valle delle Cartiere, which is suitable for participants of all ages and therefore perfect for families.
We at NowMyPlace know how much travellers are interested in enjoying their leisure time and holidays in the most rejuvenating way possible. We are also aware that for families, travelling is often an opportunity to get away from the big cities and to bring children closer to nature. That's why we offer a range of activities with animals, such as pony rides, alpacas and horses. Are the little ones apprehensive? No problem: they can approach the animals slowly and bond by brushing and stroking them before going outdoors together.
Photo-trekking
For families who love photography, we offer photo-trekking on various trails. You can choose from several trails. The Bassa Via del Garda is an excellent area to hike in the company of a professional photographer who will help you improve your photographic technique and framing to take home beautiful nature photos. Also recommended is the photo-trekking to the Rocca di Manerba and the Torbiere del Sebino on Lake Iseo.
Birdwatching in the park
A nice initiative with the family at the end or after the summer is birdwatching at the Rocca di Manerba Nature Park or the Torbiere del Sebino. What does it involve? Sighting birds in the protected area, during nesting and in the stops prior to migration, you will be supervised by a professional photographer who is an expert in birdwatching.
Experiences in contact with nature
How about discovering what an apiary looks like up close? Protected by a suit, together with a professional beekeeper, you will get close to the apiary to see how bees work and learn more about the importance of their existence.
Another unforgettable experience to try - especially for city dwellers - is to accompany the farmer to collect seasonal produce directly from the field. Basket in hand, you can learn all about seasonal crops and how to properly harvest the produce of the earth. All fun activities, but also very educational for young people, who will learn to respect nature and understand its dynamics.
Creative workshops
What if it rains outside? Creative workshops are fun activities that can take place at any time. With the help of an expert botanist, you can try your hand at the art of Kokedama, floral creations of Japanese origin in which plants grow without a pot, and the roots are worked with clay. Cooking lessons, pizza and homemade pasta are also very popular: perfect moments to have fun, discover local recipes and taste your own creations.
Why choose NowMyPlace for your family holiday on Lake Garda?
We hope we have provided you with many valid alternatives for organising your holiday on Lake Garda with the whole family. Whether it is a long trip or a weekend, you will undoubtedly be surprised by the beauty and richness of this area.
All NowMyPlace activities are designed to offer unique experiences on Lake Garda. Whether it is an adventure in contact with nature and animals or water sports, with NowMyPlace you will always be followed by experienced figures and professional guides who know the territory and the degree of difficulty of each activity.
In addition, all proposals are designed to encourage fun and unforgettable moments to be shared with all family members, to create an unbreakable bond, as well as opportunities for growth for children and teenagers.