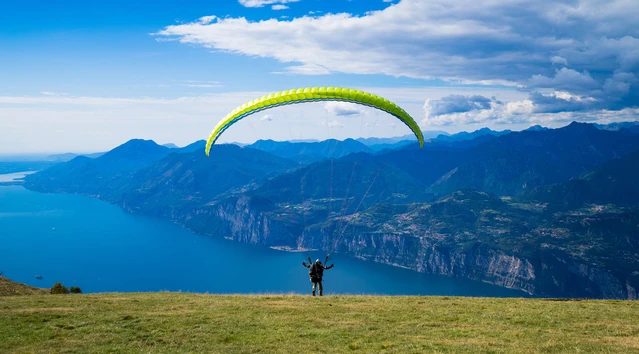 Discover paragliding on Lake Garda and Monte Baldo
Are you looking for an unusual experience to enjoy on holiday? Paragliding on Lake Garda may be just the right activity. This high-intensity, fascinating and enjoyable outdoor sport is ideal for those who want to try flying for the first time, even without experience, but always under the guidance of a qualified instructor.
The feeling of freedom you get when flying in a paraglider, surrendering to the spectacular view of the surrounding nature, with the wind in your hair, is an intense emotion that will leave you with great memories.
Moreover, as it is a slow flight, you can admire the lake and mountains from a new perspective and even take a few aerobatic photos. How to approach this sport safely and where to practice it? Thanks to NowMyPlace's proposals, you will find exciting alternatives for this experience combining caution and fun.
What is paragliding: how it was born and how it is practised
The paraglider is a means of free flight, considered to be among the simplest ever invented by man. The 'first prototype' was designed by US engineer David Barish who, around the 1960s, undertook a series of studies for NASA to facilitate the landing of space shuttles.
He developed a rudimentary structure that functioned in the same way as a boat sail. He first tested this system, together with his friend, writer and designer Dan Poynter, and amazed flying and mountain enthusiasts with spectacular ski jumps over peaks, from different heights, wearing only a pair of skis and the sail.
But it was not until the 1980s that paragliding took off, becoming an adrenalin-pumping sport sought after by mountain lovers and the adventurous. In 1985, in fact, Laurent de Kalbermatten invented the first paraglider specifically designed for flying.
What was it? It was a rectangular-shaped soft wing, connected to the person with a harness with a seat. Thanks to wires and ropes at the sides, one could move the wing gently, choosing the direction of flight.
With the passage of time, both the design and the materials used have improved, and today paragliding can be practised alone (but only with a VDS/VL pilot certificate) or together with an instructor (in the tandem option with double seat) for fun in total safety.
Obviously, paragliding should not be confused with skydiving, an activity - the latter - that requires a different type of preparation, equipment and, above all, must be practised in an area with an airport. One cannot, in fact, parachute on Lake Garda, although there are places nearby where one can also enjoy this experience.
How does paragliding work?
Since it has no engine, the paraglider uses its weight to move forward. One can take off from any meadow, whether in the mountains or on hills, remembering that the greater the difference in altitude, the more thermal currents (which will lengthen the flight) can be found. One does not dive into the void, but takes off gradually, gently leaving the slope behind.
Three phases can be distinguished for the operation of the paraglider.
Take-off. In this first phase, after putting on the harness, one reaches the starting area. The paraglider is resting on the ground and, when the person takes off, the air enters the air foil causing the glider to rise, reaching a vertical position. Sometimes the wind is sufficient and there is no need to run to take off with the paraglider.
Flight. The flight phase is the most exciting. You finally get off the ground and, seated comfortably on the seat, you are carried effortlessly. All you have to do to move is move your body and side ropes slightly, taking advantage of the wind. A flight can last up to 20 minutes at a speed of usually between 25 and 30 km/h.
Landing. With the right manoeuvres, the return to the ground is very smooth. You can land in a meadow, always taking advantage of the currents and handling the brakes, sliding slightly forward and ending with a small run.
In the case of tandem paragliding, the instructor will be your shadow. That is, he will prepare your harness, run with you for take-off, sit in his seat (behind yours) and pilot the glider to give you the best flying experience, leaving you to concentrate on your emotions and the view.
Single or two-seater?
As already mentioned, paragliding flights are single or tandem.
In the first case, if you want to fly a paraglider yourself, you have to take a course to become an expert pilot and have a thorough knowledge of take-off, piloting, landing and storage techniques.
The two-seater, on the other hand, allows everyone to paraglide because two people are attached to the glider and a seat is dedicated to the experienced instructor.
Before choosing how and whether to paraglide, one must also consider certain limitations to ensure a safe and enjoyable flight. The sport is adrenaline-pumping and fun, but not suitable for people with heart problems.
In addition, young people can also practice it, but in order to take the licence, one must be at least 16 years old and have parental consent. As for tandem riding, however, it is recommended to start at the age of 11 and with a minimum weight of 30 kg. There is also a maximum permitted weight that must be respected and that must not exceed 100 kg.
What is the right equipment for paragliding?
To fly a paraglider, you need a few essential items including a helmet, harness, glider and emergency parachute. This equipment is usually provided when you book your paragliding experience and is thoroughly checked before each activity.
In the case of a tandem flight, helmets become two (one for the pilot and one for the passenger) as well as harnesses with seats. There is also a reserve parachute.
As far as clothing is concerned, it is best to wear comfortable clothes, sneakers or hiking boots. Considering that at higher altitudes the temperature drops and windy currents are present, it is best to prefer long trousers, a sweatshirt and a windproof jacket.
Paragliding on Lake Garda: the most beautiful places to practice it
Lake Garda is one of the most popular places for paragliding. Here, there is no shortage of places to practice this adventurous sport and admire Italy's largest lake in flight.
Experiencing this moment surrounded by wonderful natural spaces can be an opportunity to spend an unforgettable holiday, even with the family. With NowMyPlace, in fact, even 11-year-olds and up can try this activity, supervised by experienced instructors, sharing every moment with family members.
On the north-western shore of Lake Garda, one can experience paragliding in Arco. Here, in the Sarca Valley, there are several take-off points and the flight opens up unforgettable views.
Among the most sought-after areas for fans of the sport are Malcesine (on the Verona side) and Toscolano Maderno (on the Brescia side). Here you will find clubs and schools with professional instructors who can guide you through paragliding in complete safety.
In particular, from Malcesine, one can take the cable car up to Monte Baldo to undertake a spectacular flight and land on a designated area near the shore. In Toscolano Maderno, on the other hand, one can take off from Monte Pizzocolo and then slowly fly over the beautiful coastline, finishing the journey on the beach agreed for the landing.
Tandem (or tandem) paragliding: free flight over Lake Garda
The tandem paraglider is perfect for those who want to try free flight but are unfamiliar or unfamiliar with the sport, and for those who are looking for a slow flight and want to enjoy an unparalleled view of the area.
With NowMyPlace you can book a unique experience, followed step by step by an expert instructor, flying over the west coast by paraglider, one of the most beautiful areas of Lake Garda: Toscolano Maderno. It will be wonderful to let yourself be lulled by the wind in the sky, experiencing a feeling of pure freedom, listening to the noises and sounds at high altitude, admiring the colours of the lake and abandoning yourself completely to your emotions.
The service includes a meeting point with the instructors who will give you easy and clear instructions on how to guide the glider, a private off-road transfer to reach the take-off site (on Monte Pizzocolo, 1,300 metres above sea level), preparation and, of course, the flight and landing. The tandem flight with the instructor will last about 20 minutes and will be recorded with a GoPro as a testimony of a unique moment to be shared or reviewed whenever one wishes.
Paragliding on Monte Baldo
Monte Baldo is another interesting destination for those who want to explore the area around Lake Garda. A destination that can be reached in a short time from the Veneto and Trentino shores of the lake, perfect for a day of paragliding fun.
The altitude, wind conditions, location and postcard-perfect views of Lake Garda make Monte Baldo one of the most popular areas to practice this outdoor sport.
The best place to practice launching is the so-called Tratto Spino, one of the main passes of the mountain, which can be easily reached with the 'Malcesine-Monte Baldo' cable car.
This is also a wonderful area to discover with other fun activities. For example, you can try one of the many excursions to Mount Baldo offered by NowMyPlace or a Vespa ride, to slowly explore the area.
With NowMyPlace paragliding on Lake Garda will be an experience to remember
At NowMyPlace we want to make every experience unique, but also safe. That is why we only rely on qualified and well-known companies in the area to offer you the highest excellence and reliability, even in outdoor sports. Our experts are always available to clarify any doubts and will guide you step by step to make each activity enjoyable and memorable. In addition, every paragliding session always includes the necessary equipment.
Relying on NowMyPlace for paragliding on Lake Garda will allow you to:
spend an unforgettable time with an experienced instructor and equipment included
relive the moment of flight thanks to GoPro video recording
have a fun and safe activity.
With NowMyPlace, paragliding on Lake Garda will give you unrepeatable emotions: would you like to try this sport with us?