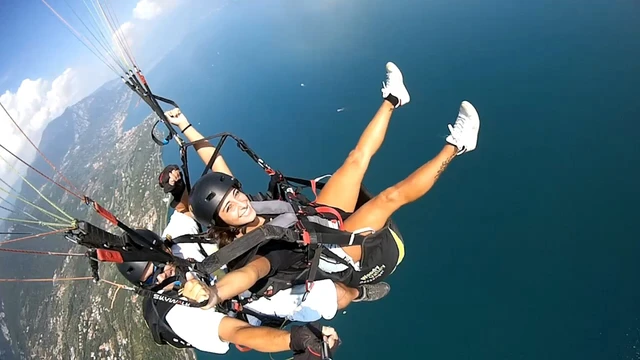 Parachuting on Lake Garda: can it be done?
Many people wonder whether it is possible to skydive on Lake Garda. Outdoor and adrenalin sports, in fact, are always in great demand and sought after by those who go on holiday or treat themselves to a weekend break from the routine. Yet, parachuting is not an activity that can currently be done on Lake Garda, although there are several alternatives.
In this article we will explain why, illustrating which are the closest destinations to try this extreme sport and which, on the other hand, are the closest activities you can try on the lake like flying over the entire body of water. Thanks to the NowMyPlace proposals, you will find fun and exciting alternatives: here are our recommendations.
What is parachuting and where can it be practised?
Born as a military practice, over the years skydiving has become an exciting sport that many people want to try at least once in their lives. But what does it consist of and why does it appeal so much? Skydiving is performed by jumping with a parachute from a plane flying at an altitude of at least 4,000 metres. The jumper has to open the parachute as stipulated by a specific regulation, around 750 metres in altitude, in order to slow the fall and land safely in the designated area (which usually corresponds to the airport of departure).
This extreme sport does not require a licence, but follows certain rules and can be practised from the age of 16 onwards either in tandem (i.e. together with an instructor) or alone.
Whichever age you choose to try your hand at a jump, the ideal is to approach the discipline with the help of an experienced instructor or by taking basic courses in which you can also equip yourself with all the necessary equipment. For safety reasons, this equipment must comply with TSO Technical Standard Orders and is subject to periodic checks. In order to offer more guarantees to the people who practise this sport every day, every parachute is now equipped with an automatic opening system that can follow the procedures even in the event of anomalies or an illness on the part of the skydiver.
Parachuting near Lake Garda: where is it done and what are the prices
It is true that the idea of trying this extreme sport is tempting but, as we have seen, it is necessary to be near an airport. On Lake Garda, therefore, the lack of this infrastructure makes it impossible to practice the discipline, either in tandem or individually. However, there are locations nearby that allow you to experience the thrill of parachute flight.
If you are on holiday at Lake Garda and want to spend a different day in search of thrills, you can go skydiving in the nearby city of Verona.
More precisely, you should go to the Boscomantico airport where the Veronese Parachute School is located. It is just a few kilometres from the Verona side of Lake Garda and during the jump you can admire the water in the background.
Prices for this activity vary depending on the number of participants, the type of jump (single or tandem), and the number of jumps planned.
Alternatives to parachute jumping on Lake Garda
Lake Garda has much to offer those who spend a holiday here. Those who want an adrenaline-filled experience can try their hand at paragliding. What is this? It is a sport similar to parachuting in which the person, hooked up to a glider (and a reserve parachute), takes a run-up and jumps from a slope, continuing their journey into the air.
To try this sport you do not need - contrary to what you might think - wind: even the clearest days, in fact, allow for a perfect flight over the lake. Let's see in which areas of Lake Garda it can be practised.
Flying over Lake Garda with a paraglider: where to do it
No technical preparation is necessary to paraglide. Anyone who enjoys good health and mobility, from the age of 11 and up, can experience the thrill of paragliding.
The only things you need to bring with you - apart from courage! - are a pair of trainers, long trousers and a windproof jacket. Ideally, you should always be accompanied by an experienced instructor who will guide you safely during the flight.
One of the areas where you can try your hand at this extreme sport on Lake Garda is the Veneto coast, more precisely at Monte Baldo. Here, in fact, there is an area that can be easily reached by taking the cable car. The flight can last up to 30 minutes and the view from above over the mountain, the lake and the surrounding villages is truly unique.
Another spectacular place where you can try paragliding is Monte Pizzocolo on the Brescia side of Lake Garda, near Toscolano Maderno. Here, thanks to NowMyPlace, you can book a tandem flight with an instructor who will provide all useful instructions before the launch.
In addition, the package includes a private off-road transfer from Toscolano Maderno to the mountain, at an altitude of 1,300 metres. The flight will last about 20 minutes and every second will be immortalised by the GoPro camera installed on the equipment: a perfect video to relive all the emotions experienced with the paraglider in every moment.
And after such an exciting activity, you can stick around Toscolano Maderno and explore the area, visiting the town together with a historical guide.
Why choose NowMyPlace paragliding as an alternative to skydiving on Lake Garda?
Free flight disciplines are very popular and are increasingly popular even on holiday because they allow you to experience strong emotions that are difficult to describe in words.
Moreover, they are a way to test oneself, overcome one's fears and admire a landscape from a unique point of view, with completely new scenery.
Choosing to try paragliding with NowMyPlace not only meets all these needs but also allows you to:
admire and explore the area in flight,
enjoy a safe experience, followed by experienced instructors,
have the necessary equipment for the flight and insurance cover,
take home beautiful memories (and video recordings),
try an adrenaline sport surrounded by the beauty of nature.
Come and discover the beauty and traditions of Garda with NowMyPlace and have fun with our proposals designed for those who don't want to give up sport even on holiday!