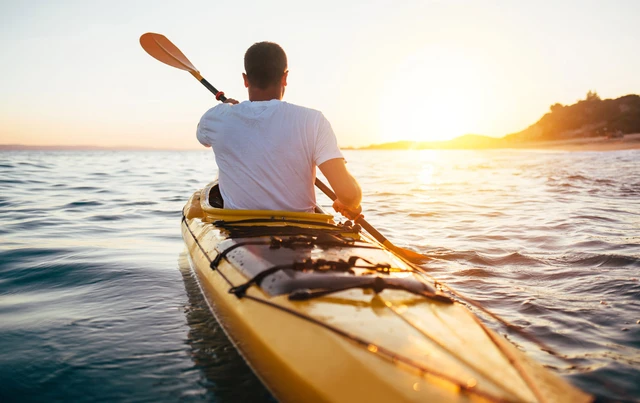 Kayak or Canoe on Lake Garda: which to choose and why
Hiring a canoe to explore Lake Garda can be a fun experience and absolutely a must if you are on holiday in these magnificent places. Canoeing, however, should not be confused with kayaking. Although they are very similar, there are actually some differences to consider if you want to rent one of these craft for a trip on the lake.
So let's see what the differences between canoeing and kayaking are, the most beautiful areas in which to practice this sport, and NowMyPlace experiences that can make your day unique and fun.
Canoeing or Kayaking on Lake Garda? The major differences between the two sports
Canoeing and kayaking involve two very similar boats. In fact, they both use paddles instead of oars for movement. They are usually single-seater, although types dedicated to carrying several people can be found.
As for the kayak, this craft owes its origins to the Inuit populations living in the Arctic, who invented this variant of the canoe for hunting on water. The canoe, on the other hand, is linked to Canadian territory where it was used as a boat by North American Indians.
The idea of using a canoe and kayak for recreation is attributed to the Scottish explorer John MacGregor who, during the 19th century, started to go on excursions with a kayak. Not only that: he founded a club in London in 1866 and organised sporting competitions, giving rise to a sport that conquered the entire continent of Europe.
But how do canoeing and kayaking differ?
What distinguishes them is mainly the position the person assumes once on board. In the canoe, the knees are slightly bent (one on a pad and the other moved slightly forward) while in the kayak, one sits with the legs fixed in front of him or her.
There are also differences in the type of paddle. In particular:
in the canoe, you hold a single paddle;
in the kayak, the paddle is double (it has a paddle on each end of the handle).
Certainly, considering the more comfortable position on the boat, kayaking is easier. In addition, the double paddle is easier to manoeuvre, even for the less experienced paddler.
The right equipment
The right clothing is needed for a tour. It is good to wear a swimming costume, a technical shirt, waterproof or water-repellent shorts, sandals or sneakers. Also recommended are sunglasses (in which case it is best to tie them around your neck with a lanyard), a hat with a visor, a case to protect your smartphone from splashes and a towel.
Places to explore by canoe and kayak on Lake Garda
If you have decided to take a canoe or kayak tour on Lake Garda, it is good to choose the right area where the lake is calm and free of waves. This, in fact, is the perfect situation for paddling in safety, either staying in the vicinity or heading towards beautiful destinations. Let's see which are the most beautiful and recommended tourist spots.
The Veneto coast of the lake
The area including Peschiera and the Veneto coastline is perfect for trying this sport.
To visit here:
Lazise: a picturesque village, surrounded by ancient walls and the beautiful Scaliger castle. You can get lost wandering around among the many small activities and bars, perhaps even stopping for an aperitif.
Peschiera: a lakeside village full of historic buildings and fascinating canal bridges. The historic centre, in miniature, is easily covered on foot and the lakefront is full of bathing beaches in which to relax.
Bardolino: a locality famous for its wine of the same name, it is wonderful to explore on foot, strolling through the narrow streets of the centre or on the pedestrian walkway around the lake.
Brenzone: a widespread municipality, perfect for those who like to be surrounded by nature. It has plenty of free beaches and is recommended for those wishing to try their hand at water sports, including canoeing and kayaking.
Cisano: a hamlet of the municipality of Bardolino nestled among lush hills full of vineyards that create a spectacular contrast of colours with the blue of the lake. It is the ideal destination for nature lovers because here you can relax on the beaches and admire the view.
Malcesine: a small village overlooking the lake, at the foot of Monte Baldo. The centre is really characteristic and you can stop for a gourmet stop and taste typical dishes.
Travelling to the western shore
Limone is another place where it is nice to paddle.
After spending a few hours at the lake trying your hand at kayaking, you can visit the town. There are many things to see (and do) here. In addition to the centre, you can visit the famous lemon houses, go to the beaches to relax, or hop on a bike to ride the famous panoramic cycle path overlooking the lake.
Canoeing in Gargnano and Alto Garda
The perfect place to try an accompanied canoe trip on Lake Garda is Toscolano Maderno.
In this small jewel surrounded by nature, rich in monuments and unique architecture, you can explore the coast in complete safety and discover the area from a new perspective, perhaps being amazed by hidden places and anecdotes told by an expert guide.
The ideal way to have fun and learn more about the surrounding area.
Rent a canoe on Lake Garda with NowMyPlace
You can hire a canoe at various locations, even better if you combine it with an excursion with an expert guide on the lake. It will be an experience that will allow you to get in touch with nature and enjoy its beauty from a privileged vantage point.
You will explore the lake by water to discover unique views and engage in fun challenges with friends and family. Or you will reach the beautiful villages overlooking the lake, paddling slowly and with an experienced guide.
One idea could be to book an accompanied canoe trip on Lake Garda in Toscolano Maderno, on the Brescia coast. A canoeing activity suitable for everyone, both beginners and experts, as well as families. Obviously, paddling on an open lake, you must be a skilled swimmer but also a good listener because the guide, after hiring the canoe, will accompany you along little-known places, telling you anecdotes and curious stories.
Kayaking on Lake Garda with NowMyPlace
Renting a kayak on Lake Garda is really easy. There are several places that rent them and costs can vary depending on the type of boat requested, the number of people involved in the rental and the timeframe.
To make this experience unique, however, it is ideal to request the presence of an instructor who will teach you the basic techniques if you are a beginner and help you move around safely, even if you are already familiar with this sport.
When you book a kayaking experience with NowMyPlace, such as a trip to Toscolano Maderno, boat hire is included in the price. You will thus explore a beautiful stretch of coastline, discovering its secrets and curious stories.
Canoeing on Lake Garda: why choose NowMyPlace
Our proposals are designed to satisfy the wishes of those who want to discover Lake Garda with unique, safe and memorable tours. By choosing a NowMyPlace tour you can:
discover hidden places, stories and anecdotes,
paddle on the lake in safety, followed by an expert instructor,
observe the lake from a new perspective,
try your hand at a new sport that everyone can enjoy,
experience new emotions in contact with nature while respecting it,
combine other experiences such as

tasting typical products

(to get to know the flavours of the area) and sports on the lake.
What do you say, then, canoe or kayak? Whatever your choice, the important thing is to have fun, in the spirit of all the experiences proposed by NowMyPlace.
We look forward to seeing you!