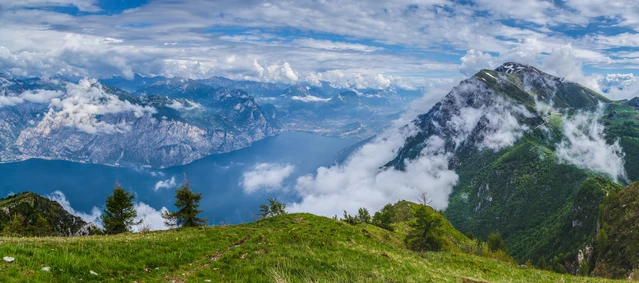 Hiking on Monte Baldo: here are the routes for excursions
Between the provinces of Trento and Verona rises Monte Baldo, a massif that reaches an altitude of 2218 metres. It is the westernmost relief of the Veneto Pre-Alps and many choose it both as a winter destination, for skiing, and during the summer, for nature walks. In fact, the possibilities for excursions on Monte Baldo are decidedly varied and make it a popular place.
From trekking to via ferrate, from walking to cycling routes, it is possible to discover not only scenic wonders, but also castles and museums not far from the mountains. We'll find out more in this article.
Monte Baldo, a jewel between the lake and the Garda valley
Monte Baldo abounds in fauna and flora, including botanical species that are difficult to find elsewhere, which is why it is also known as 'the Garden of Europe'. It offers a breathtaking panoramic view of the surrounding region and is accessible via a series of hiking trails that start from different points on the mountain. These routes are suitable for all levels of experience, from beginners to experienced hikers. There are also cable cars and chairlifts for those who want to reach the summit effortlessly.
You will have already realised that it is a paradise for those who love outdoor sports: the possibilities are numerous, as we have seen. If winter sees it is a destination for skiers and snowboarders, in summer it opens up to other outdoor activities, to be practised alone or in groups.
Trekking on Monte Baldo
Close to the Trentino border you will find routes with breathtaking panoramic views, from which you can observe Lake Garda from different perspectives and heights.
Here are some itineraries we recommend, to venture out to Monte Baldo and discover its wonders:
Monte Altissimo, the highest peak in Trentino Baldo
The Peace Trail (Bocca d'Ardole - Corno della Paura - Monte Vignola)
Loop tour San Giacomo - Malga Campo - Bocca Creer - San Giacomo
The Sorna torrent gorge
The Chestnut Path from Bretonico to Castione.
Via Ferrate on Monte Baldo
If you love the intense challenges of via ferrata routes, you will find satisfaction on Monte Baldo. In fact, this mountain is also known for its equipped routes, thanks to which you can reach the peaks. We'll allow ourselves a little spoiler: the hardest part will be choosing one of the many via ferratas, knowing, however, that the beauty of Mount Baldo will encourage you to return again and again after the first one.
Here are some suggestions:
Ferrata delle Taccole
Via Ferrata 'Fausto Susatti' - Cima Capi
Via Ferrata 'Rino Pisetta' - Dain Picol
Via Ferrata 'Ottorino Marangoni' - Montalbano
Via Ferrata Che Guevara - Monte Casale
Via Ferrata dei Colodri.
Mountain biking on Monte Baldo
Another option is mountain biking, perfect for moving nimbly with the wind blowing around as you explore Monte Baldo. Here, too, you can choose between routes of varying difficulty, some of which are only suitable for experienced sportsmen, such as the Monte Altissimo enduro route, with a descent of 2000m.
From Torri del Benaco to Cima Telegrafo there is a slightly less demanding route, but still recommended for people already trained and used to mountain biking.
Another viable route is the one from Monte Baldo to Malcesine, which starts at the cable car station, taking path no. 11. Since some stretches have boulders, it is only worth venturing out if you are familiar with terrain that requires excellent technique and control.
A less complex route, however, is the Anello della Colma, which also leads to Malcesine from the mountain.
What to see around Monte Baldo? Discovering castles and museums
Those who like to explore nature without forgoing history and art will find numerous castles, museums and sanctuaries to visit in and around Monte Baldo, between a walk and a trek.
Here are some suggestions:
The Castle of Avio, in the town of the same name, a complex consisting of a keep, five towers, baronial palace and 13th-century walls.
Rovereto Castle, which has been restored and now houses the Italian War History Museum.
Buonconsiglio Castle, the largest monumental complex in Trentino, and the Eagle Tower.
MUSE, the new Science Museum in Trento, is a perfect place for families to retrace the history of the planet and explore its wonders.
The Monte Baldo Fossil Museum.
Hiking on Monte Baldo with NowMyPlace
With NowMyPlace you can enjoy fantastic experiences on Lake Garda and in the surrounding areas, from adrenalin sports such as paragliding, to yoga, cooking lessons and other culinary experiences to discover what's good, indeed great, to eat and drink on the shores of Lake Garda.
In the company of our expert professional guides, you will be able to get to know an area that is always new and pleasing at any time of the year. A place rich in history and natural beauty, generous, that knows how to give itself to those who visit it with the attentive eye of the traveller far from the beaten paths.
Among the places that deserve the attention of those travelling in the direction of Lake Garda, there is certainly Monte Baldo. NowMyPlace proposes that you discover it on a Vespa tour: a 120 km tour thanks to which you will avoid the long queues of the cable car and reach a height of 1,500m, following secret paths.
An opportunity to enjoy the hidden treasures of the Adige Valley and the slopes of Monte Baldo. An example? The church carved halfway into the rock, which will thrill you and also look great in the photos you take.
The tour also includes an Enantio wine tasting at a winery run by a family of historic wine growers, and a meal at a restaurant where you will sample authentic Trentino dishes.
Discover the most authentic Garda, immersing yourself in its nature
Sport, relaxation, adventure, cuisine... there are many aspects of Lake Garda worth discovering, and NowMyPlace wants you to meet them one after the other. Ancient villages where you can still breathe in the aromas of times gone by, climbing routes, museums, nature hikes, such as those on Monte Baldo: there is always at least one reason to visit Lake Garda and its surroundings.
Shall we go together?