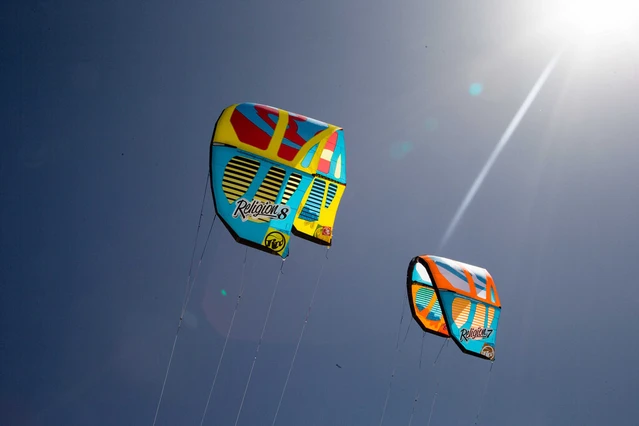 The best kitesurfing courses on Lake Garda
More and more people are taking up water sports in their free time, and many are choosing kitesurfing. This discipline, whose name includes that of another much more famous one, surfing, in fact, resembles it in its use of a board, but only needs wind, not waves. This is why places where the breeze blows all day long are ideal for practising it: in fact, thanks to the constant winds, in particular the Ora and the Pèler, kitesurfing on Lake Garda has become increasingly popular. This unique area, with its natural magnificence, is home to schools and a destination for sportsmen and women dedicated to competitions, as well as many travellers who decide to take advantage of their holiday to try an adrenalin-pumping activity.
A bachelor party, a special birthday present, a sui generis team building are some of the occasions when water sports such as kitesurfing become the real protagonists. In the NowMyPlace proposals, however, there is also room for family and children: here are our recommendations.
What is kitesurfing?
Before we focus on kitesurfing experiences on Lake Garda, it may be useful to talk briefly about this discipline. It is a surface water sport, in which a board similar to a surfboard and a kite moved by the wind are used. In practice, the person on the board is 'towed' by the kite, which is connected to a bar by which it can be manoeuvred.
As we have already mentioned, kitesurfing is practised in windy places, but does not require waves. A stretch of water such as Lake Garda, therefore, is a perfect place, where the different winds that blow throughout the day allow both beginners and experts to engage in this activity.
Kitesurfing on Lake Garda: courses and other experiences chosen by NowMyPlace
Water and wind have always inspired in human beings a sense of absolute freedom and deep union with nature. It is this, together with the desire to experience new emotions, that drives the traveller towards adrenalin-fuelled experiences: to move, to be in contact with the elements, to feel their strength and at the same time their gentleness, and to know how to take advantage of them. Familiarising yourself with the lake, with the water that keeps the board afloat and the wind that moves the kite are the basics you will learn if you want to kitesurf on Lake Garda. The activities we offer at NowMyPlace include lessons for all levels and accompanying you on a group outing to practice the sport.
A first approach to kitesurfing
On Lake Garda you can have fun, discover corners of true paradise in which to relax and enjoy excellent food and wine. But resisting the call of the water is difficult, if not impossible, for those who have adventure in their blood: so why not indulge your inspiration, and treat yourself (or others) to a kitesurfing lesson? You might discover a sport that can give you great thrills, and that you can practise safely in a short time, especially for those who start with a basic knowledge of windsurfing or wing foil. The lessons are not reserved for adults, but are suitable from 6 years of age and involve the interaction of groups of up to three people. They can be a gift idea for a friend or become, and why not, a proposal for corporate team building. There are many companies that choose to take work groups out of the office, to undertake a path of change also through sport.
Freestyle for those already kitesurfing
We have mentioned it and certainly, if you are reading this article, you know it too. Kitesurfing is becoming increasingly popular, even in Italy. If you are among the enthusiasts, who immediately saw the possibilities of this sport and practice it consistently, the course for you is the freestyle course. You will have an expert instructor at your disposal for three hours, during which you can perfect your technique and work on individual movements, become more fluid in handling the kite bar, and enjoy the extraordinary panorama of the lakeshore in the meantime.
An accompanied outing for large groups
Lake Garda is a destination for kitesurfers, but it is also the choice that many groups of friends make for a special birthday or hen party. Sometimes things coincide: if you are a group of kitesurfing enthusiasts, you could take the opportunity for an accompanied outing, with the single lift package. You will have a boat with a qualified instructor who will take you to a spot where the sea and wind conditions are optimal. You will be able to kitesurf safely and, in case of need, recovery will be quick and easy.
What kitesurfing experiences with NowMyPlace include
Through NowMyPlace you can book kitesurfing courses on Lake Garda and lessons at any level organised by an official kitesurfing school centre VDWS (Verband Deutscher Wassersportschulen e.V.), which has been organising activities of this kind for twenty years. Rental of complete technical equipment by RRD (Roberto Ricci Design), a reference brand for kitesurfers and other water sports around the world, is always included.
(n.b. Equipment hire is not included for the 'single lift' accompaniment.)
In all activities you will be in the company of a qualified and experienced instructor, who will ensure your safety and that of the entire group, as well as immediate intervention in case of difficulty. Whether you are an absolute beginner or a consummate athlete, you can be sure that each proposal is designed to give you peace of mind.
With NowMyPlace, kitesurfing on Lake Garda will take you to the magical and unspoilt nature of the west coast, the area that is part of the municipality of Tremosine: the small and wonderful Campione del Garda, in the Riviera dei Limoni, a rich territory that will amaze you with sunsets of incredible colours. An experience that will give you well-being and adrenalin, everything you are looking for in a day away from the city.