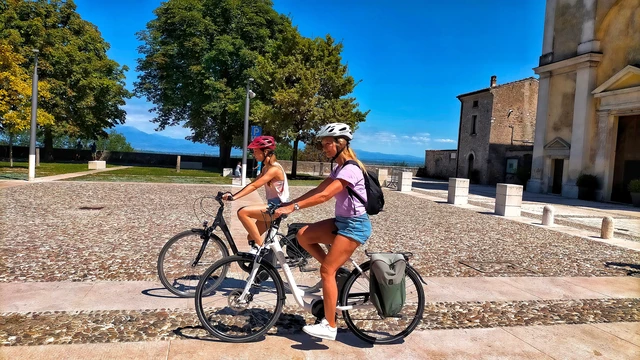 Discover Lake Garda by bike with your children
Every season is perfect for a tour of Lake Garda by bike with children. Getting on two wheels is a great idea to discover the area slowly and have a special experience with the whole family.
An exceptional activity for nature lovers that allows, pedal after pedal, to admire magnificent views, visit small villages and - of course - have fun. In the NowMyPlace catalogue you'll find numerous proposals to regain your free time and spend a few hours between adventure and relaxation: let's see some of them together.
Lake Garda by bike: it's even more beautiful with the family
From the North to the South there are various routes for exploring the Garda area by bike.
Those dedicated to beginners are more relaxing and less tiring; designed to admire the beauty of nature, the towns or the lakefront without too much effort.
And then there are the cycle-tour itineraries and the slightly more demanding routes that cross the hinterland, perfect for reaching hidden places and getting to know the Garda area from a new perspective. In short: many opportunities to satisfy the desires of every biker.
One thing is certain: cycling is great fun, especially if you do it together with the whole family. You can indulge yourself by choosing the most suitable itinerary to create and share unique moments, perhaps combining it with some other activity - such as an aperitif or an outdoor picnic - once you arrive at your destination.
For example, you can book an e-bike experience to discover the morainic hills of Lower Garda. An exciting trip to admire, one after the other, spectacular places such as the historic villages of Solferino, Castellaro Lagusello and San Martino della Battaglia, and, to liven up the day, you can request a Lugana wine tasting (a white wine typical of this area) at a farm.
Rent bikes to pedal when you wish
Sometimes, especially for reasons of space, when travelling you don't always think about taking your bike with you. When you discover that your destination offers numerous cycle paths and routes to cycle however, you may be disappointed.
At Lake Garda, this option is not contemplated because there are numerous accommodation facilities and local businesses that rent bicycles, including children's bikes, and accessories for families, such as child seats.
With NowMyPlace it is possible to book a unique travel experience with bike rental included, following an expert guide along one of the proposed paths, perhaps combining the bike tour with a workshop for children, a delicious brunch or a tasting with typical local products.
The cycle paths on Lake Garda? Here are three different ones to try with children
Lake Garda is the right destination to experience quality time and create unforgettable memories. It is a place where there is no shortage of scenic cycle paths and routes designed especially for cycling, and, as we have said, it is really very easy to hire a bike for the whole day or just for a few hours.
There are numerous cycle paths along Lake Garda that can also be cycled with children, at a slow pace and in safety. Here are three suggestions not to be missed if you are on holiday: these routes are perfect for exploring the surrounding area as well.
The Mincio cycle path
The Mincio cycle path is known as 'the longest green motorway in Italy': at 37 kilometres, it links Mantua to Peschiera del Garda.
It is a simple route, which passes through villages and small Italian municipalities and which can also be travelled for just a stretch. With NowMyPlace, for example, you can reach the Verona section to start your exploratory adventure from Borghetto sul Mincio, one of the most beautiful villages in Italy, and ride an e-bike to the moraine hills of Custoza.
Places that have been the backdrop to historic battles and that today host precious vineyards to be admired in all their beauty. A bike tour here allows you to get to know the area better, enjoy unique views and get closer to the authenticity of the land, even combining the tour with food and wine tastings of local products at local farms.
The Lazise-Garda trail
An easy cycle path, suitable for all families, is the one that connects Lazise to Punta San Vigilio. Following it offers the opportunity to explore the Venetian coast of the lake, with stops at Lazise (with its castle, Scaliger walls and the Customs House), Bardolino (a town famous for its wine and with a centre on a human scale) and Punta San Vigilio. The latter is a romantic peninsula owned by the Counts Guarienti di Brenzone, whose beauty in the past has fascinated illustrious guests such as Winston Churchill, the painter Edith Junghans and the actor Laurence Olivier.
The runway in Limone sul Garda
The slope in Limone sul Garda, opened in 2018, is a true splendour. The runway, fixed to the mountain, is suspended at a height of 50 metres above the lake and offers a spectacular and unique panoramic view of the area.
The first section, only 2.5 kilometres long, connects Limone to Riva del Garda. Here, you can do other activities such as going in search of some of the beautiful waterfalls of Lake Garda. An example? The Ponale Waterfall, near Riva, which can also be admired exclusively from the water! An original way to get close to it and see it up close is to book a sailing trip to Riva del Garda with an experienced skipper with NowMyPlace. A pleasant activity to alternate with cycling.
NowMyPlace bike tours for the perfect Lake Garda holiday (by bike and with the family)
How to make your day unique, even on a bike? A great idea is to book a bike tour with a guide or an e-bike tour, taking advantage of the electric bikes. Our professionals will accompany you along secondary and little-trodden paths, allowing you to get even more in tune with the area.
For example, the tour with a visit to Toscolano Maderno proposed by NowMyPlace consists of a 15-kilometre route, which can be covered in about three hours, alternating between flat roads (easy to ride) and lakeside cycle paths.
Also not to be missed is the bike tour in the Valle delle Cartiere, through the symbolic places of paper production, which for so long was the driving force behind the local economy. A slow trip, very easy and also suitable for families, which develops along flat white roads and lakeside cycle paths, passing places of architectural and historical importance.
Finally, an easy bike tour to try with the family is the one that leads to the discovery of the 'Busa', a flat area enclosed by mountains and crossed by the Sarca river. Perfect to breathe in clean air and be conquered by the beauty (and slowness) of nature.
Cycling around Lake Garda with children: why choose NowMyPlace?
Choosing a NowMyPlace tour with the whole family is ideal for:
exploring the area in an authentic and profound way,
discovering the curiosities and unique corners of the villages and the area, together with an expert guide,
travelling safely, without risks and counting on timely assistance (even in the event of problems with the vehicle).
With our proposals you will always find a captivating and different way to explore the Garda coastline, to learn about the culture, history and food and wine of each place explored, but also to relax and enjoy yourself, remaining in close contact with nature. All this always in maximum safety, because you will be in the company of professional guides and instructors.
Discover Garda with NowMyPlace cycling experiences!