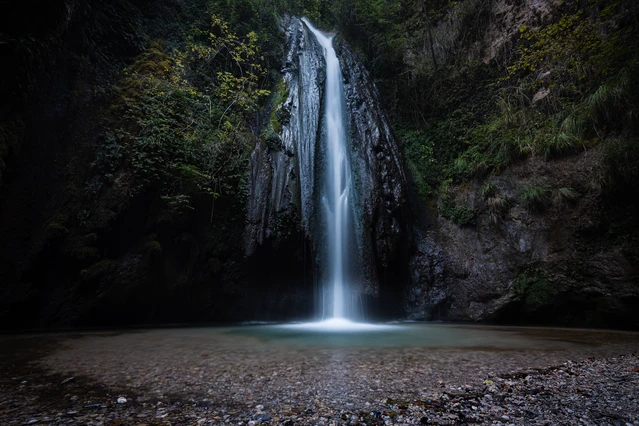 Guide to Lake Garda Waterfalls
A trip to the waterfalls of Lake Garda is certainly an evergreen for those who love outdoor and open-air trips. The waterfalls, in fact, represent a true spectacle of nature capable of recreating feelings of wonder and amazement. Moreover, they are perfect to admire together with the whole family.
We know: you already picture yourself with camera in hand, ready to take the perfect photo. Certainly a wonderful memory, but even better if combined with some experience, such as a boat trip or playing a watersport, to give the day a boost of energy.
Activities such as those proposed by NowMyPlace, which you can combine with a pleasant visit to the Garda waterfalls. But which destinations to reach? Let's see them together.
Waterfalls near Lake Garda: Varone, the most famous in Riva del Garda
The Varone Waterfall is one of the most popular and spectacular waterfalls around Lake Garda. It originates from the underground waters of Lake Tenno and the Magnone stream, whose flow meets the rock and ends its journey with a 98-metre-high drop.
Already well known in the 19th century - when it was frequented by poets, writers and other famous people of the time, such as Franz Kafka, Thomas Mann, Prince Umberto II and Gabriele D'Annunzio - this waterfall is located in the Alto Garda area, in the municipality of Tenno, about 3km from Riva del Garda.
It can be easily reached by any means (car, bus, bicycle) and, once there, all you have to do is enter the Varone Waterfall Cave Park and walk along a short path to get there. It is a relaxing walk, to be taken at leisure, in which you can completely abandon yourself to the beauty of nature, admiring both the botanical and zen garden, both of which have been created within the path.
Nothing in this place is left to chance. Although this is a small area, the access was designed in the early 20th century by architect Giancarlo Maroni (Gabriele D'Annunzio's Vittoriale was also his) with great care and attention to detail.
Two caves, one waterfall
To see the waterfall you have to go through the lower and then the upper cave. The former is easy to access: just continue along the path, walking on the footbridge and then into the bowels of the mountain. Surrounded by the living stone sculpted by the water, with the sound of the jet getting louder step by step, you can reach the final part of the waterfall admiring the leap that reaches almost 100m in height.
Entering the cave gives you a unique feeling, almost as if you were immersed in a fairytale world. In reality, however, what you find yourself in is not a cave, but a gorge, high and narrow. What is it? A deep gorge that has been carved by water over the years; a very slow natural process that, in this case, has continued for a good 20,000 years: a true rarity.
In the upper cave, you also enter the heart of the mountain, but to do so, you have to walk through a tunnel carved by man into the rock. A 15m tunnel that, at the end, opens onto an inner chasm. This is where the waterfall rises and the waters plunge more than 70m down.
An incredible spectacle that makes the Varone Waterfall one of the most striking natural attractions in the area and a fun activity for family holidays. Also, good news if you are travelling with your dog as access to the waterfall is also allowed for our four-legged friends.
The hidden waterfalls of Lake Garda: Ponale, Sopino, Campione
What other waterfalls can be admired on Lake Garda? Definitely worth seeing is the Ponale Waterfall, also near Riva del Garda. The only way to reach the basin of this small wild natural wonder, hidden in a ravine among the rocks, is by water. But the waterfall can also be seen from routes such as the Strada del Ponale, along which our e-bike tour La Ponale delle Meraviglie takes place.
In Limone, on the Brescia side of Lake Garda, you can admire the Sopino Waterfall. Small, but with a 15m drop, it can be easily reached by trekking enthusiasts along a path – which is well signposted - that leads from the centre of Limone towards the Sentiero del Sole - Ciclabile del Garda - 135. Following the path, you will soon find signs for the waterfall and in a short time you can reach your destination on foot.
Finally, a little corner of paradise enclosed in nature: the Campione del Garda waterfall. A magical place, accessible via a path (number 267, to be precise). Its peculiarity? The water of the waterfall plunges into a splendid natural pool, surrounded by lush vegetation.
Campione del Garda is also a perfect location for outdoor sports enthusiasts: just a few steps away from the waterfall is the kitesurfing school, an official VDWS (Verband Deutscher Wassersportschulen e.V.) centre. Ideal for those who already know this sport or want to try their hand at a trial lesson for beginners followed by an experienced instructor. An activity that is recommended for ages 6 and up and that you can try out with the whole family, to spend a fun day outdoors all together.
Waterfalls near Lake Garda reachable in one day
In addition to those we have just told you about, there are other waterfalls that can be easily reached from Lake Garda: a perfect idea for those who want to take a trip out and explore the surrounding area.
For example, in the Brescia area you can easily reach the Cascata del Paradiso waterfall in Ome, Franciacorta. To see it, just follow an easy path through the botanical garden. Also in the province of Brescia is the Tignale Waterfall in the hamlet of the same name. A small open-air jewel to be discovered in an equipped walk lasting about 25 minutes and of medium difficulty (with a last stretch characterised by protections and steel ropes and therefore less suitable for beginners).
Certainly, this is an excellent stage to alternate with an outdoor sports holiday at Lake Garda to indulge in other outdoor activities such as canyoning and trekking in this area. An example? The canyoning in the Vione torrent in Tignale proposed by NowMyPlace: in about an hour, you can reach your destination to devote yourself to a unique and exciting nature adventure.
In the Verona area, there is the Molina Waterfall. A spectacular place, immersed in an area of about 80,000 sqm (the Molina Waterfall Park), this area is full of streams and paths that pass through a varied nature and fauna in which even roe deer, badgers and squirrels can sometimes be spotted.
In the Trentino region, one can also admire the Gorg d'Abiss waterfall. We are in Tiarno di Sotto, a hamlet of Ledro, and - also in this case - to reach it there is a very easy path, suitable for all families. Starting from the Mulino dei Bugatini it only takes about 20 minutes to find yourself in front of this small but splendid waterfall, set inside a cave.
Lastly, the Zambel waterfalls of the Rio Cavallo in Calliano (TN) are enchanting, even though they are of artificial origin (created to provide energy for local activities). They can be easily reached with a walk of about 10 minutes.
Combining a visit to the waterfalls with an outdoor activity will certainly turn your trip into a wonderful experience. Also:
your holiday will be safe;
you will create fantastic memories;
you will experience unique moments, bringing your family together even more.
How about starting now?