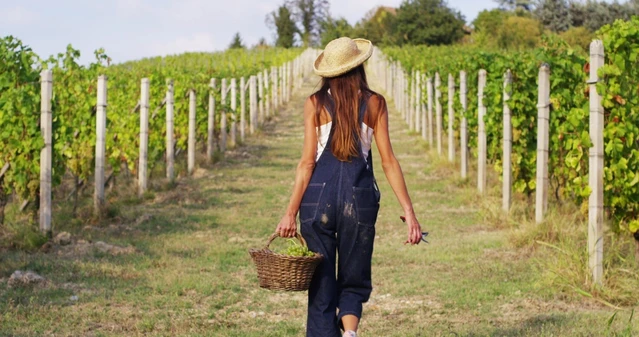 Water, earth and air, Lake Garda encompasses the primary elements of our beloved nature: with its more adrenalin-pumping activities and outdoor sports, its tastings where we can savour typical local flavours, its itineraries of authentic discovery of the place and its wellness activities in top locations, Garda offers itself to us as a microcosm to explore, setting off on a journey outside and inside ourselves.
Experiencing Lake Garda by doing things is the new approach to holidays that we propose to all of you and especially to those who do not know this great Italian lake that foreigners call Garda.
A selection of MUST DO and MUST LIVE experiences, that some of you can't even imagine (to be kept secret among us!), fellow travel addicts and escapees from mass tourism. A unique heritage to protect, made up of gems to preserve and realities to discover little by little.
Air: summit activities, hiking and mountain trails, paragliding over the lake.
An experience to try at least once in your life is that of a two-seater paragliding flight: from the mountain to the lake: an off-road vehicle will take you to the top of the promontory overlooking Toscolano Maderno and under the expert guidance of Alan, Giorgio and Roberto, you will let yourself go to a thrilling experience, admiring Garda from above, free and powerful as an eagle in flight. Vie ferrate, scrambling, climbing and trekking will allow you to reach the mountain peaks and breathe pure air. From up there, you will clearly perceive how the lake mitigates the climate and you will enjoy, in the silence of nature, all the emotions typical of these outdoor experiences, true escapes from everyday life, bringing new challenges. Among the proposals selected by NowMyPlace in Garda Trentino, the full-day Via Ferrata di Cima Capi, or the shorter half-day Via Ferrata Colodri and Via Ferrata Rio Sallagoni stand out. For those who want to push themselves further, we recommend the Climbing at Gaino Crag, an excellent opportunity to try out the basic vertical progression technique. Also fantastic is the Trekking Radic de L'ors in the Ledro Valley to explore the wonderful Garda trentino.
Water: sailing on the lake, loving the depths and living blue.
Shall we start with something unconventional? Canyoning, an outdoor activity that has caught on in recent years among discerning travellers looking for an exciting mix of nature and adrenaline sport. A mountain guide will take you to canyons located in areas that are difficult to reach on your own and allow you to try your hand at an activity that requires a certain amount of courage. These experiences take place along a riverbed, between rocks and waterfalls: you can choose between Canyoning Vione on the west coast or Canyoning Rio Nero on the north coast. If, on the other hand, you prefer gentle cruising and discovery, the entire coast of the lake can be explored by boat tours with a skipper, each one different in duration and route. The most popular are the Tour with skipper from Gargnano: the two coasts for families, the Tour with skipper: Punta San Vigilio and Garda from Gardone for groups of friends, and the Sunset sailing excursion for couples looking for a moment of privacy and exclusivity. Sailing or going out in a motorboat to dive in and have a swim in the middle of the lake is the perfect crowning glory of a holiday at Lake Garda. Finally, those who want to keep their balance on the surface of the water can take part in a magnificent Sunset Sup Tour near Desenzano or at Go&Flow: SUP tour with final SUP yoga lesson near Peschiera del Garda, where our partner will take you to unexplored corners unreachable to most.
Earth: food and wine routes to discover the flavours of the area.
This land offers quality products cultivated by the locals with wisdom and commitment: think for example of the rosé wines of Valtenesi or the white wine of Lugana. Visiting wine cellars or treating yourself to a wine experience is perhaps the best way to savour their fruits, discovering their history, secrets and potential. In Valtenesi, you can take part in the Secret garden tasting in the courtyard of a renowned winery: you will be welcomed by the host, an exceptional wine maker, surrounded by incredible fragrances. In Lugana, in a location of unmistakable charm, you can participate in the Lugana Wine Tour and Tasting: the family between tradition and innovation or in the San Giacomo Experience: in defender among the vines, just for two, in which a wine expert will accompany you throughout the experience, offering various wine tastings and answering your curiosities. On the morainic hills, in the hinterland of the southern coast of the lake, the different conformation of the terrain will present you with quite different wine tastes: an award-winning wine cellar will offer you a tasting on the porch with glasses of wines produced by this historic winery, a rural setting of pure simplicity in honour of the ancestors who have cultivated and respected this land for generations.
The sun protagonist at sunrise and sunset.
At dawn, sunlight illuminates the lake and the shoreline that surrounds it, while sunset softens the landscape with gentle hues. Experiencing nature at nightfall or daybreak enriches our experience at the lake: everything becomes more intense and colourful. When the temperature drops, you can try the E-Bike Tour Experience: the Valtenesi at sunset: Valerio, an experienced MTB guide, will lead you along a route with an unparalleled view of the lake and combine a passion for cycling with a wine tasting. Or would you instead like to try a completely new windsurfing experience? We have created two formats especially for those who are not satisfied with doing things the same way as everyone else: a one-to-one windsurfing lesson at dawn and a one-to-one windsurfing lesson at dusk. Wanting to reach a more zen dimension, you could do yoga on the water with Sunset SUP Yoga and SUP yoga at sunset, or alternatively you might be intrigued by two top experiences such as the Sunrise Yoga Lesson on a lakefront terrace and the Horseback Riding Waiting for the Sunset.