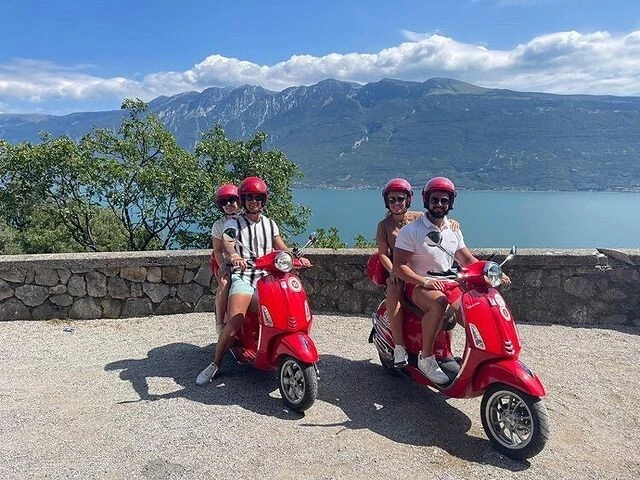 Motorbike tour of Lake Garda: here's what to visit
Lake Garda is one of the most popular and visited tourist destinations in Italy, thanks to its natural beauty, rich history and culture, not to mention local wines and gastronomy, olive oils and spirits. A place that contains many others, and that deserves to be explored freely, as is the case, for example, with a motorbike tour of Lake Garda. In particular, NowMyPlace proposes Vespa tours, where you can move along pre-established routes or decide to make your own stops: let's find out more about how and what kind of experience awaits you!
Motorbike tours on Lake Garda: why are they so popular?
Motorbike tours on Lake Garda offer the possibility of discovering the area in an authentic and intense way, through lesser known but equally suggestive places. Compared to other ways of visiting, in fact, they allow you to move along narrow roads, which would not be practicable by car. A unique, original and fun experience.
In general, motorcycling trips offer pre-established routes, with the possibility, at times, of making additional stops. You ride around the lake on your own, stopping to admire the views and perhaps take a few photographs.
Which paths to choose
The routes of motorbike tours on Lake Garda can vary depending on the preferences of the participants. Generally, they include stops at certain points of interest, such as the lake's historic villages, medieval castles, nature parks, and the most picturesque beaches. Like other experiences, these outings may include tastings of typical products, olive oil and local wines.
From the Valpolicella, famous among wine enthusiasts, to the cities of art near the lake, such as Verona or Mantua, to the complete tour of Lake Garda, the possibilities are numerous. In this part of Italy, there is no shortage of attractions, historical sites and monuments.
Lake Garda by motorbike: who chooses it?
Groups of friends or families, but also couples: motorbike tours are versatile and adapt to the different needs of travellers. In some cases, it is possible to choose the vehicle to be driven, based on the experience of the participants. At NowMyPlace, we have come up with tours with one of the icons in terms of vehicles, the Vespa. Let's find out together where you can go on two wheels?
Lake Garda Vespa Tour with NowMyPlace
A jewel that is already 70 years old, yet is still in great shape: the Vespa is not just a scooter, it is a true icon, representing the dreams of freedom of entire generations. Today, it not only occupies an exceptional place in the imagination of many travellers, Italian and otherwise, but is also a much-loved means of getting around the city and beyond.
With NowMyPlace, the Vespa will take you around Lake Garda. From team building to family outings, from stag and hen parties, the opportunities to choose our tours are numerous. They are some of the most popular experiences for groups of friends who want to celebrate a birthday together, a work milestone, or who just want to spend a day that breaks the routine. They are also perfect for couples, as they are a good compromise between freedom of movement, privacy and the possibility of sharing. But Vespa tours also appeal to outdoor enthusiasts!
East coast tours: Monte Baldo, Peschiera, Valpolicella
From Malcesine, the Vespa exploration of the shore and hinterland starts, all the way to Monte Baldo. A 120 km tour to discover its backroads, up to an altitude of 1,500 metres. Travelling along secret paths, you will discover the treasures of the Adige Valley, visit a church carved halfway into the rock, and taste wine.
From Peschiera, a tasty 65-kilometre route dedicated to regional cuisine starts. You will taste local and typical products, including grappas and vinegars aged according to tradition.
Circumnavigating Lake Garda by motorbike is one of the most popular itineraries for travellers. NowMyPlace offers you to do it on a Vespa: 170 km to circumnavigate the lake, amidst panoramic views from both shores. A ferry crossing is planned.
Another departure from Peschiera, for the tour to the Lessinia Natural Park and Valpolicella. An immersion in the landscapes and beauty of the area, but also in ancient culinary traditions.
On a Vespa on the north coast, discovering the lakes
Starting from Riva del Garda, you will visit Lake Idro, Lake Ledro, Lake Valvestino and, of course, Lake Garda in a single day. The total itinerary is about 140 km, in a continuous succession of mountain and flat roads, ascents, descents and hairpin bends. It includes a break for lunch with local specialities at a family-run agriturismo.
How Vespa tours work
Our Vespa tours take place in self-drive mode. They are, in fact, guided experiences, but not physically guided: when you check in, information about the tour is downloaded onto the vehicle's GPS. There is, however, the possibility of making stops outside the established route, to take photos, to visit a particular place, to taste typical products. Each tour also includes tastings in wineries: the recommendation is to limit yourself to tastings, as you will have to drive a vehicle.
Vespa experiences admit a maximum of 12 participants. The vehicle must be driven by someone with a B licence who is 21 years of age or older, or an A1 or A2 licence who is 18 years of age or older.
Why choose a Vespa tour with NowMyPlace?
Being able to leave the itinerary we propose and make other stops than those planned is certainly a strong attraction for our outings. But there are many reasons to choose a day out on a Vespa: the coolness of the wind, the feeling of freedom, the routes that include secondary roads, therefore away from traffic, the food and wine aspect, to name but a few.
Discovering Garda by motorbike is an experience to be tried at least once in a lifetime, to experience the area in a unique and personalised way, between nature, culture and fun. Thanks to two wheels, you can experience the lake and its attractions in a full, satisfying and personalised way.