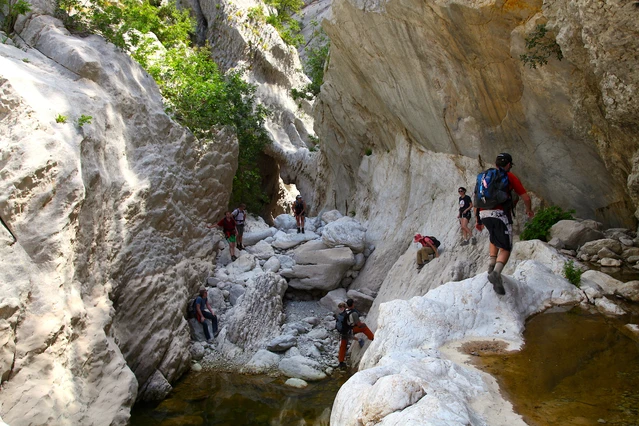 Canyoning on Lake Garda: here's where to go to try it
Raise your hand if you have a passion for outdoor sports! If you are looking for an activity that will shake up your routine, if you want to take the opportunity to experience - and experiment in - something different, without giving up the beauty of the landscape. An experience such as canyoning at Lake Garda, for example, will give you the chance to admire some spectacular wonders of nature: gorges, rocks, canyons and ravines. Let's discover together what are the origins of this aquatic and adrenaline-raising activity now frequently practised also in Italy, and, what are the proposals of NowMyPlace to live a day of adventure!
Canyoning: when was this sport born?
Canyoning

, also called torrentismo in Italian, is a sporting activity to be practised in the mountains: it consists of descending down streams that flow inside deep rocky channels called gorges, on foot, without using canoes or other means. However, ropes are required to abseil vertically or for greater safety when high up. The ideal places have a narrow conformation and steep slope, with a low water flow, which generally does not exceed 200 litres per second. These are therefore torrents that are almost completely inaccessible by other routes: once the descent has begun, it is no longer possible to turn back and one must continue to the end.

It seems that the origins of canyoning date back to the late 19th century, when groups of cavers in various parts of Europe tried to explore caves and canyons on the slopes of the Pyrenees.
What does it take to go canyoning and who can do it?
If you want to try your hand at this sport and enjoy the scenic beauty from a very unusual vantage point, you will need a minimum of equipment. For canyoning, you will need a swimming costume, trainers with a sculpted sole or mountain shoes, comfortable spare clothing and a towel. On top of your swimming costume you will wear a neoprene wetsuit, which is necessary as the water temperature in torrents is always low, even during the hottest season.
Canyoning on Lake Garda: where to do it with NowMyPlace
Lake Garda has a vast and diversified territory in which it is possible to practice many activities, including canyoning. Its geography, in fact, makes it suitable for water sports thanks to the constant presence of winds; the lush nature offers thrills during walks or horseback excursions; the presence of reliefs makes it attractive for trekking and ferrate. But which are the best-known areas for canyoning? We suggest two, on the west and north coasts.
Canyoning in Tignale
In the province of Brescia lies the village of Tignale sul Garda, consisting of the six hamlets of Gardola, Piovere, Prabione, Aer, Olzano and Oldesio. Here, besides canyoning, you can visit lemon houses, admire the beautiful views of the lake, go trekking and much more.
The experience we propose is adventurous: with NowMyPlace you can go canyoning in the hinterland of Tignale in the Vione stream. It is a route suitable for people aged 12 and over and does not require any special physical preparation. You can participate even if it is your first time in this activity: you will find it regenerating and full of emotions, but not too physically demanding. The duration is 4 hours, which includes about two and a half hours to spend in the water of the stream.
If you want to spend a different day, if contact with nature fascinates you but you don't want to limit yourself to walking, then this proposal is for you: immersed in the Vione you will discover another way of experiencing Garda and you will have fun in company. Groups of a maximum of 9 people allow you to make the most of the descent: you can book with friends and family or, why not, with work colleagues. Either way, it will be worth it!
Canyoning in Tiarno di Sopra
Another area of Lake Garda where canyoning can be practised is Val di Ledro, where the Rio Nero flows, a north-west-facing torrent that is at its best on hot days. The waters have shaped the gorge through which the Rio flows and the route also includes many waterfalls and jumps, which you can tackle by abseiling, if you wish, with ropes. The proposal on the Rio Nero is also suitable for people with or without experience: choose it for a weekend to remember, perhaps on the occasion of a bachelor party or birthday. These are just a few suggestions, based on what travellers normally enjoy and decide to do, but canyoning is an adventure that will surprise you every time: even for families, with kids aged 12 or more, it can be a new way to cement bonds and strengthen trust.
What canyoning experiences with NowMyPlace include
The NowMyPlace proposals are designed by our team to get closer to the traveller's wishes and to satisfy them. This means that we think about all aspects of the experience, because we want to give you the best. Whether it's a few hours or a whole day, the time you spend on our activities must be of value.
In terms of organisation and practicality, canyoning always includes the rental of technical equipment, which includes a 5mm neoprene wetsuit, 3mm neoprene socks, harness and a helmet.
As in all activities, a qualified and experienced instructor will accompany you in canyoning to ensure your safety and that of the entire group. If it is your first time, you will find answers to every doubt and you will be directed towards the right movements to move without running any risk; if, on the other hand, you have already tried this sport, you will be sure to always be able to count on a person who will guide you and intervene in case of difficulty or problems.
With NowMyPlace, canyoning at Lake Garda will be a continuous discovery: of yourself and your limits, which you will certainly overcome with joy and enthusiasm, as well as of the magical and uncontaminated nature. Let yourself be tempted by Lake Garda and, above all, let it amaze you with its many sport, food and wine, and culture proposals. We are waiting for you!