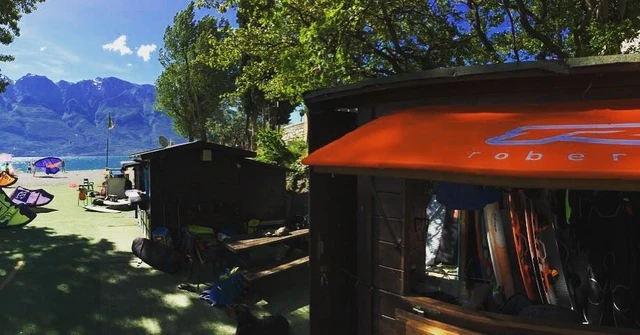 Discover water sports on Lake Garda in this list
Are you leaving for Lake Garda and planning how to spend your free time? In addition to the breathtaking landscapes and extraordinary gastronomy, you have probably chosen this destination because you love windsurfing or kitesurfing. Yes, you can practice many water sports on Lake Garda! It is a well-known place among those who love to test their familiarity with boards and sails. So, let's see what activities and experiences you can try out in this area, in contact with its natural beauty and coastal landscapes.
Water sports on Lake Garda: unspoilt landscapes, waves, wind and adrenaline
Internationally known for sailing, since it hosts numerous competitions, Lake Garda is also famous among people practising other water sports, thanks to its excellent conditions for sailing with the wind. In fact, the particular shape of the lake and the surrounding mountains mean that it is almost always present at specific times of the day. In particular, these are the Ora and the Pelèr.
The Pelèr blows from the north over most of the lake in the early hours of the day. In the upper and middle Garda it can start around 2am, and then spread to the rest of the area. Its name is linked to the Trentino shore: in the local dialect, in fact, they say the wind 'pelts' the waves, that is, it 'peels' them by breaking their crest. It can reach a peak speed of 13 m/s.
The Ora, the most famous wind of the Upper Garda, blows from the south from about 12 noon until sunset. It can reach a speed of over 10 m/s and create significant swell; its alternation with the Pelèr is one of the reasons why Lake Garda is so popular with those who love sailing sports: the lake is, in fact, the ideal place to practice them throughout the day.
Nago-Torbole and Tremosine
Among the destinations for water sports on Lake Garda are the villages of Nago-Torbole and Tremosine, located on the north and west coasts respectively. Both are scattered municipalities and some of their hamlets overlook the lake: these are Torbole and Campione del Garda.
Torbole is a popular destination for sailing and windsurfing, and is admired by visitors for the great beauty of the picturesque historic village with its houses arranged like an amphitheatre on Lake Garda. A small pearl that also captivated the German writer Johann Wolfgang von Goethe during one of his trips to Italy.
Campione is a location that is often used as a film set, since the appearance of the coastline resembles that of a fjord. It is also home to national and international competitions in sports such as windsurfing and kitesurfing, and schools dedicated to these and other water sports.
Let's now see what activities you can do in these two wonderful places, suitable for adventure seekers and wild tourism, where the element of adrenaline cannot be missed.
Windsurfing on Lake Garda
At NowMyPlace we know that travellers are not all the same. Some want to get to know the area through experiences to remember, to help build memories not just of a holiday, but of a lifetime. They want to try their hand at something new, an activity they may have always thought of, like windsurfing. If you have never been on a board, you will find beginner courses where a qualified instructor will introduce you to the sport from the basics. You will learn how to control the sail and board first in light winds, then move on to stronger ones.
One-to-one lessons are available for both children and adults, with the possibility of taking them also at dawn or sunset, to enjoy the picturesque shores of Lake Garda in a truly spectacular light. Among our proposals, there are also two-person packages for a couple of adults who want to experience the freedom of windsurfing together: partner, friends, parent and child will find a tasty aperitif at the end of the activity to round off the day in the best possible way.
Kitesurfing on Lake Garda
Kitesurfing lessons are suitable from 6 years of age: a time to introduce the little ones to this sport, in complete safety, even in the company of other family members or new friends (lessons for beginners are for a maximum of three people).
The kite experiences also include lessons for all levels, which the instructor will manage and modulate according to the participant's knowledge and ability. For those who have already been practising this sport for some time, there is also the possibility of attending a 3-hour freestyle course, where you can learn new manoeuvres, and improve your posture and technique under the guidance of an expert.
Finally, for groups of people (maximum 30, over 18 years old) who can practice this sport independently, there is also the single lift, which offers the support of a transfer and a boat with a qualified instructor. From the beach, you will reach a spot where the water and wind conditions are optimal for kitesurfing safely, knowing that you can count on an easy recovery in case of need. The kitesurfing school that runs the activities is an official VDWS (Verband Deutscher Wassersportschulen e.V.) centre.
Wing foil on Lake Garda
An increasingly popular and sought-after water discipline inspired by bird flight, it involves the use of an inflatable wing to be held with the arms, exploiting the wind on a board. Often, those who approach wing foiling already have experience in other water sports: on Lake Garda you can put yourself to the test with lessons for small groups, in which the instructor will help you acquire the basics to practice the activity independently.
Freeride experience on Lake Garda with NowMyPlace
If you are in the mood for a full immersion, a day of adventure, adrenaline and physical activity with the wind in your hair, we have just the thing for you. The freeride experience at NowMyPlace will allow you to try and practice various water sports for which Lake Garda is famous: windsurfing, kitesurfing and wing foil. Among the wonders of the Campione coastline, you will have a whole day in which an instructor will help you plan everything according to your skills and level, switching from one sport to another or choosing one in particular.
Enjoy water sports on Lake Garda safely with NowMyPlace
Water sports are fascinating, engaging and rewarding when practised, but we know that they can be daunting for those approaching them for the first time. That is why it is important to remember that with NowMyPlace, you will always have a qualified instructor at your side, who can guide you and answer all your questions, reassure you and intervene if necessary.
At all levels and for all ages, our experiences will make you appreciate Lake Garda from a new perspective, because you will always be at the centre with your desire to discover and take on new challenges.