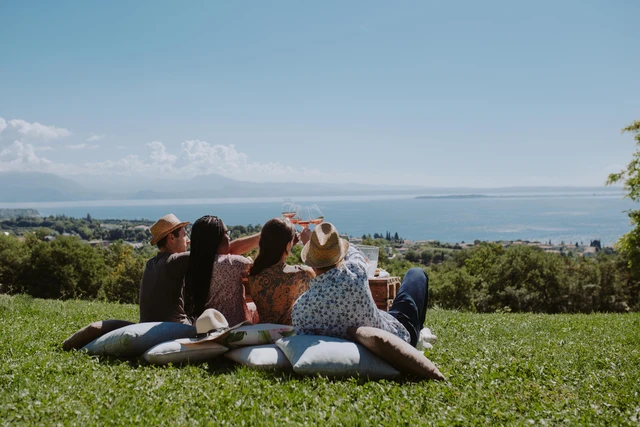 Picnic on Lake Garda: a Slow Tasting Experience
The Garda area is one of the most famous destinations in Italy. Known for its crystal-clear waters and the picturesque towns that line its shores, the area is also rich in food and wine wonders. How, then, to indulge in a full immersion that combines relaxation in nature with tasting the tastiest local products? The answer is a picnic on Lake Garda, an experience that will allow you to enjoy spectacular views of the lake and the surrounding hills and mountains.
Whether you are in the mood for a romantic day out or a fun outing with friends, the options are many: let's take a look at some tips on ideal locations and discover the proposals signed NowMyPlace.
Picnics on Lake Garda: why eat outdoors and where to do it
Sunny days seem made for spending time outdoors and enjoying the benefits of an outdoor activity. And there is plenty of sun on Lake Garda: an element that combines with the mild Mediterranean microclimate that characterises this area of Italy and contributes to making it unique. If we then consider the landscape variety and biodiversity, it is clear that this is a place where the idea of total immersion in nature and beauty becomes something real.
Beaches to visit at dawn or sunset, woods to walk through and fill your lungs with clear air, trails for trekking, e-biking and mountain biking... but also vineyards, lemon groves and olive groves that represent the most authentic essence of Garda. There are many places where you can find areas equipped for barbecues or picnics, where you can take a pleasant break while you reach other destinations, or where you can go for a quick lunch. Of course, preparing everything can be satisfying, but it takes time.
NowMyPlace has decided to revisit the classic picnic and turn it into an opportunity to get to know the Garda area and its excellence. Unplug, then, get away from the city and stress, and think how pleasant it will be to savour the local cuisine, with delicacies such as cheeses, polenta, cured meats and local wines, while sitting on a lawn and sheltered by the coolness of a tree. A moment of pure relaxation that will make you forget the routine of big cities, the traffic, the speed.
Discover Lake Garda picnics with NowMyPlace
Spending time in the open air is a panacea for our psychophysical well-being. So you can take advantage of the fine weather and treat yourself to an outdoor picnic on Lake Garda: an unforgettable food experience that will allow you to savour the local cuisine in close contact with the natural elements of Lake Garda.
Our proposals are designed for fairly large groups (of 8 or 15 people). You can organise yourself with your acquaintances or meet other travellers and take this opportunity to make friends in an informal and pleasant setting.
Picnic in the vineyard at Sirmione
How about a picnic in the vineyard? In Sirmione, on the south coast, you will visit the winery and the historic farmstead in which it is located, discovering the history of the winery and the area. After an aperitif, you will move among the rows of Turbiana grapes and take along the picnic baskets provided by the owners: you will find local cured meats and cheeses from the Brescian valleys, as well as risotto prepared with Vialone Nano from Isola della Scala. For groups of a maximum of 15 people, from 4 years of age.
Picnic with sommelier in Padenghe
In Padenghe, on the west coast, with NowMyPlace you will enter the doors of a wine resort surrounded by greenery for an outdoor tasting with a sommelier who will talk about the winery's wine. To accompany your glasses, a gourmet mystery box with typical products from the farmhouse. For groups of a maximum of 15 people, aged 8 and above.
Lake-view picnic in Gardone
Let's move to the west coast, to Gardone Riviera, a place famous for the Vittoriale degli Italiani and the breath-taking view of the lake. After a walk through the village of Morgnaga, you will arrive in the hills for a Country Chic Pic-Nic on a 13-hectare estate around a renovated farmhouse. Sophisticated, zero-kilometre products, bread, cheese and a bottle of Valtenesi wine are the ingredients of the day, along with an enthralling view of the lake. For groups of a maximum of 8 persons, 16 years of age and above.
Tasteful experiences to experience Garda
Picnics are not the only food experiences through which you can explore the area. A holiday on Lake Garda is the right time to combine the different needs of travellers, whether friends, colleagues or families. Food and wine is certainly one of the factors that attract many people to this area every year, both from Italy and from the rest of Europe and the world: it is no coincidence that Garda boasts fine wines and olive oils, as well as a wealth of recipes and preparations to be tasted.
Would you like more ideas on this subject? Lunches and dinners in wine cellars or farmhouses, ideal for celebrating a birthday or a business milestone; liqueur and distillate tastings, such as the one we propose in Padenghe, Valtenesi, to get to know an important aspect of local production, that of grappa and other spirits; aperitifs in the vineyard, cooking lessons, wine experiences in a hot tub... there really is something for everyone!
We believe that food unites people and gives voice to places and those who inhabit them with clarity and passion: that is why even in outdoor experiences such as bike tours we often introduce a gastronomic stop! The bike tour to the Vecchio Mulino, in Tignale, is an opportunity to cycle along an old military mule track to an agritourism farm where you will sample dishes made with seasonal ingredients in a cosy family environment.
The e-bike tour with Tasting Experience also ends with a tasting experience of typical local products: in the nature of the Alto Garda region, through the Vallata di Vione, you will arrive at the Pian del Termen refuge, 1,400 m above sea level.
Would you like to join us for a picnic on Lake Garda or other food experiences?