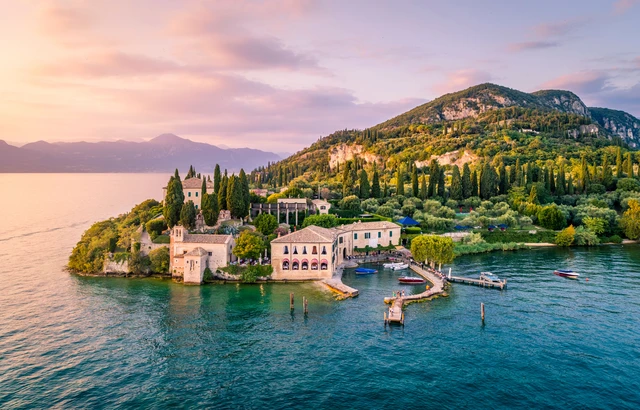 Lake Garda activities: the complete guide
A holiday that combines entertainment, culture and the discovery of the area is a common goal for many travellers: Garda is one of the many places in Italy where all this is possible. It is a destination of choice for those who travel in search of little-trodden paths but, above all, want to spend quality time in the company of family, friends or new acquaintances made during their holiday. Moreover, the activities on Lake Garda are truly numerous: from water sports to the tasting of fine olive oil and wine, from horse riding to artistic experiences or moments of true relaxation in the midst of nature. Moreover, thanks to their varied geography, Lake Garda's shores and hills offer many perspectives. And today, in order to tell you about all that you can do, we want to start precisely from these locations, from what characterises them and makes them famous far beyond Italy's borders.
Lake Garda activities: what to do and see on the coast and inland
Desenzano, Salò, Sirmione... these and other names are certainly familiar to anyone with a little knowledge of Lake Garda, perhaps because they have already travelled in the area or because they have been looking for information on places to visit. NowMyPlace proposes a tour along the entire coast, starting from Alto Garda and continuing southwards up to the Veneto side of this splendid stretch of water. We will tell you what to expect from a holiday, what you will find in the different areas and what activities you can indulge in.
How about getting started?
What to do in Gargnano and on Alto Garda
The north-western shore of Lake Garda is famous for its historical lemon groves, including the Limonaia la Malora and the Limonaia Pra dela Fam, a tangible legacy of the agricultural tradition of these places. Moreover, the coast is called 'dei limoni' (of lemons), precisely because of the widespread cultivation of the citrus fruit.
Among the beauties to be admired is undoubtedly the Alto Garda Nature Park, which extends over nine municipalities, including Gargnano, Gardone Riviera, Tremosine and Tignale. In these two towns there are characteristic historic villages, ideal for a relaxing walk in an atmosphere of times gone by. Also worth visiting in the surrounding area is the imposing Villa Bettoni, overlooking Lake Garda, in Bogliaco.
We have mentioned it before, although perhaps there was no need: water sports are among the most popular activities on the lake. Those who enjoy kitesurfing, windsurfing or wingfoiling will find winds blowing on the shores almost continuously throughout the day.
Salò and the Brescia coast
We continue our journey to Salò and Gardone Riviera, where we find, to name but two of the places to visit, the Vittoriale degli Italiani and the Heller Botanical Garden. Why not also take the opportunity to visit the beautiful Isola del Garda, with its lush flower gardens?
An area to be discovered at a slow pace: the Garda area in Brescia is ideal for photographic trekking or birdwatching, as well as walks and other experiences on horseback or tasting typical products. The taste itineraries, our food experiences, are opportunities to get to know both the local gastronomic preparations and some beautiful spots, such as historic villas, parks overlooking the lake and other unique locations.
What to see on Lake Garda: Valtenesi
To the west of the lake, the morainic hills draw a landscape dotted with olive groves and vineyards that attract travellers along with the medieval villages: in Valtenesi you can admire the colourful and evocative landscape, but also the castles, such as those of Padenghe, Moniga, Soiano and Polpenazze. Discover the Rocca di Manerba Nature Park, the Lucone archaeological area and the Isola dei Conigli (Rabbit Island) so that no corner of a truly rich and surprising territory remains unexplored.
Depending on your taste and level of preparedness, you can opt for one of our bike tours, but if you prefer, there are also plenty of walking routes, which provide Instagrammable views to carry in your heart forever.
Are you looking for a new perspective? Then why not try stand-up paddle (SUP), to admire the lake and its shores perhaps in the relaxation of a sunset.
The south coast and Desenzano
On the south coast, we find Desenzano del Garda and its castle, the Villa Romana, the Rocca and the Palazzo del Podestà in Lonato. NowMyPlace offers wellness activities to immerse you in the area, such as yoga or pilates. We have also thought of bike tours, itineraries for walking, as well as sailing trips, a particularly popular proposal for occasions such as hen or stag parties.
Among the recommended experiences are food and wine experiences: come and discover typical dishes and fine wines during picnics among the vineyards, lunches or dinners in renowned wine cellars, where you will be welcomed in familiar atmospheres and unique locations. We know you won't easily forget them!
Sirmione and its peninsula
The Sirmione peninsula is another of the iconic locations on Lake Garda. Places to take note of, besides Sirmione itself, are Terme Aquaria, Lido delle Bionde and Spiaggia Jamaica. In this area you can satisfy several passions, first and foremost that for history. Sirmione, in fact, has been an inhabited site since Neolithic times; during the Roman period, also due to its strategic position, the town had a certain importance, which it continued to maintain. In addition to the Scaligero Castle and the Grotte di Catullo, the Palazzo Maria Callas and the Villa Meneghini-Callas are worth visiting.
The particular geographical location, responsible for a mild climate, and the clay soils have always welcomed the cultivation of vines, which still nourishes a full-bodied oenological tradition. Why not discover the wines of the area, then, perhaps with a visit to the cellars? Cooking classes could also be a pleasant digression to indulge in during a holiday.
Holidays on Lake Garda: Peschiera and the Veneto coast
We are in Peschiera, at the end of our tour of Lake Garda. In addition to this resort, on the Veneto coast we also find Borghetto, Valeggio sul Mincio, Laghetto del Frassino, and the beautiful historic centre of Lazise. Also not to be forgotten are the Sigurtà Park and the Mincio cycle path: in short, there is something for everyone in this area too.
NowMyPlace therefore offers you a range of tours that will not only meet the needs of solo travellers and families, but also of groups of friends and couples. You can try a new sport, enjoy the scenery and sample the local cuisine. The proposals are many: from SUP lessons to hiking or cycling excursions to admire the villages and landscapes of Lake Garda and maybe stop to take some photos, enjoy a glass of wine or taste some local delicacies.
Discover Garda safely with NowMyPlace
Introducing you to the history and culture of the area, while admiring its beauty and relaxing, is the aim of all our experiences. But what we also care about is providing the best conditions for you to enjoy these outings: your safety, with NowMyPlace, is always a priority. On all tours, you will be in the company of experienced, certified guides who will be able to help you practice a sport, and satisfy your curiosity about local traditions and other aspects of the places you visit.