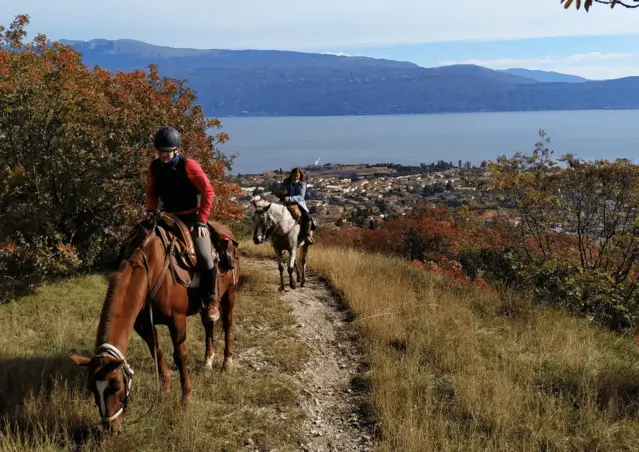 The best places to go horse riding on Lake Garda
There are many different ways to discover and experience an area such as Italy's largest lake. Among the possibilities that you have, to immerse yourself in the rich and varied landscapes that will fill your eyes with wonder and give you an authentic contact with something beautiful, are horse riding experiences: on Lake Garda, in fact, you can enjoy horse riding by going for relaxing rides or excursions, if you already have some experience or not. Whether you are in a couple or a group, or with your family, you can have fun in complete safety and enjoy a morning or afternoon in the saddle on these magnificent animals. Let's find out more!
Horse riding experiences for absolute beginners and experienced jockeys: our proposals
Before telling you about the details of the horse-riding experiences organised by NowMyPlace, it is important to remember that they are suitable for everyone, both adults and children, even for absolute beginners. We have built our catalogue thinking about the needs and desires of those who usually choose to go for a walk or an excursion on horseback, but also thinking about the different types of travellers who visit Lake Garda.
For all of you nature lovers, we offer activities that will make you familiar with the animal, dedicated to those who are unfamiliar with stirrups, reins and other harnesses, as well as excursions and lessons for those who are already experienced and know how to ride independently, but would perhaps like to refine their technique.
Horse riding at Lake Garda
Imagine having an American-style ranch all to yourself and being able to ride horseback through the Valtenesi hills. Surrounded by greenery, you will admire Lake Garda in all its magnificence and enjoy fifteen hectares of greenery. The walk on the ranch in Soiano is also ideal for those who have never ridden a horse before: the route, which winds along a scenic trail that is easy to follow, is for a maximum of two participants, aged 10 and up.
In Gavardo, on the west coast of the lake, you can travel on horseback and discover the beauty of the Upper Garda area of Brescia with a ride through olive groves and vineyards. This is the perfect experience for a small group (maximum of four participants) or for a family where the 'little ones' are already 18 years old.
For a slightly larger group (six participants) there is instead the sunset walk at Gaino: a 5-kilometre tour at the end of which you can taste local wines at the agriturismo where the riding stables are located, where those who wish can also stop for dinner. Precisely because of this additional possibility, the sunset walk is one of the favourite proposals of friends who want to celebrate a hen party in an alternative way.
Horse riding at Lake Garda with NowMyPlace
Are you familiar with horses, but have not yet explored the hills and mountains surrounding Lake Garda? For you, an excursion in the natural area of Toscolano and Gargnano is the ideal solution: a tour of about twelve kilometres for those who are used to riding over such distances and on steep terrain.
You will discover historical sites and olive groves, along with the secrets of the olive oil produced in the area, at a farm where you will also taste jams and other seasonal delicacies.
Carriage ride on Lake Garda: another idea for a hen party
We have already mentioned it: if you are looking for the right place and the right experience to celebrate a hen party, you can't go wrong by choosing Garda!
How about a carriage ride, then? In Gavardo, on the western shore of the lake, you will be led by an expert guide along country, gravel and secondary roads in the Valtenesi area. If you think that two hours are not enough time to discover the area and enjoy yourself, then you can opt for the walk with lunch included: halfway along you will reach an agriturismo, for a tasty stop based on the gastronomic excellence typical of this area of Lake Garda. Both experiences are also open to all participants, including children and teenagers. Think how surprised your family will be if you decide to take them on a horse-drawn carriage! An excursion with an old-fashioned flavour, a slow pace and definitely unforgettable!
Riding lessons on Lake Garda
Among the proposals of NowMyPlace on Lake Garda, there are also riding lessons. These are individual activities, in which you will have a qualified instructor at your disposal who will provide you with all the necessary notions for approaching horses and riding, in case you are a beginner. The lesson is modulated according to the level of knowledge of the person taking part and is also open to children of at least 5 years of age. It can therefore be an introductory horse-riding experience to propose to young children before enrolling them in a real riding course.
The individual lesson for experts, on the other hand, is for those who are already 18 years old and familiar with horse riding. Even in this case, however, the instructor will follow the participant's skills to help them improve in particular aspects as observed or required.
Both are available in Soiano, on the west coast of Lake Garda, an enchanted area among the Valtenesi hills, and take place on an American-style ranch surrounded by lush greenery.
Why choose horseback riding experiences from NowMyPlace?
Our offer of walks, excursions and riding lessons has been carefully designed to give anyone who is passionate about (or wants to try horse riding) the opportunity to do so in an area of great biodiversity and variability. This makes it possible, on the one hand, to ride itineraries that would be difficult to reach by car, and thus to enjoy breathtaking views and panoramas of both the lake and the entire Garda area. On the other, it allows tours to be adapted to the abilities of the participants.
All experiences, whether for groups, couples, families or children, always take place in complete safety: a qualified instructor will be with you, who will put their knowledge of the animal and the territory, and their experience, at your disposal to guide you through a unique, unforgettable afternoon or day, to be experienced without any worries. Whether you are already a seasoned rider or if riding a horse is a dream yet to be realised, you can rely on NowMyPlace for scenic trails and inland valleys, discovering wild nature and reconnecting with it.
Finally, horse riding will also lead you to discover gastronomic delicacies: some of the riding stables on Lake Garda, in fact, are located inside agriturismo where you can have lunch or taste typical products and wines. A true regeneration of the senses, in the midst of corners of hills and valleys to be explored.