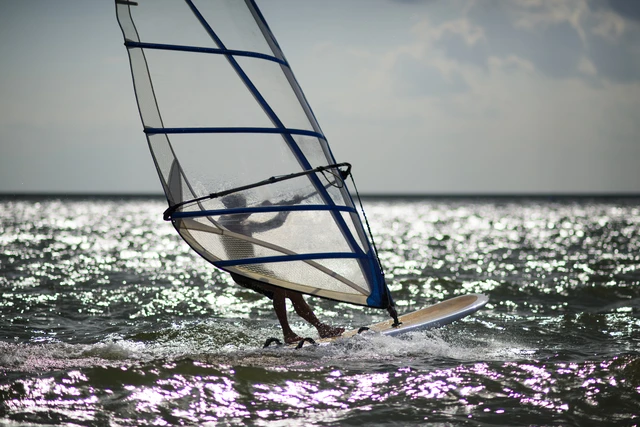 Windsurfing on Lake Garda: where to do it
Sailing and surfing have given rise to a water sport that attracts fans all over the world. In Italy, the practice of windsurfing on Lake Garda is widespread, in locations such as Riva or Torbole, for example. In these areas, in fact, where the wind is more constant, the conditions are ideal, so much so that there are also plenty of schools where one can learn the discipline. There is also no lack of competitions and events such as the Torbole Europa Meeting, which has been held in Torbole sul Garda for 23 years, the Lake Garda Optimist Meeting in Riva del Garda, and the Techno 293 European Championship, also in Torbole.
Those who want to windsurf, therefore, will find the Lake Garda Riviera a privileged place to combine sporting activity with a regenerating immersion in lush nature. With NowMyplace you can discover the most evocative views and landscapes while you learn windsurfing or improve your style.
Let's take a look at the characteristics of this sport and what experiences are available.
What is windsurfing? The water sport for all ages!
Windsurfing is a water sport suitable for all ages, requiring no special physical skills, as long as you have some balance and strength to stand on the board. It takes little time to practise and learn the basics, however, to really become an expert you need to gain experience and gradually perfect your technique.
Windsurfing uses a surfboard and a sail to harness the wind. The boards come in different sizes and shapes, while the sail can be adjusted according to the intensity of the wind to ensure greater stability and speed.
If you love water, contact with nature and a challenge, windsurfing could be the perfect sport for you and will provide you with unique thrills.
Discover Garda with land-based activities and water sports
Garda is a dream location, or rather, it is a place where dreams can come true. Are you thinking of a boat trip with your closest friends? It can be done! Or a horse ride with the whole family? That is also possible. What about a wine tasting or a tasting of fine spirits? No problem: Garda is versatile and rich, it always produces unexpected emotions and it loves to be discovered in all its facets.
The good thing, in fact, is that there is something for everyone: in this area there is walking, trekking, climbing, but also sup, wingfoil, kitesurfing and, of course, windsurfing. Caressed by the breeze, under the soft, warm rays of the sun, you can spend a few hours on your board practising, perhaps admiring a sunset or sunrise.
Windsurfing on Lake Garda: courses and other experiences chosen by NowMyPlace
Leisure time takes all the forms you want, from the more relaxing to the more eventful. Quality time, of value, because you choose how best to occupy it. Undoubtedly, the thrill and challenge are part of the game, because there are so many activities to try on Lake Garda.
Of course, we must remember that windsurfing is not an extreme sport, but it is safe and can also be practised by children. However, especially for those who have already been practising it for some time, there is no shortage of adrenalin-pumping moments. If you want to rent windsurfs on Lake Garda and try your hand at this sport, then you have chosen the right place.
With NowMyPlace you can take windsurfing lessons for all levels, from absolute beginner to advanced on the north coast, in Torbole, or on the west coast, in Campione.
Sunrise lesson in Nago-Torbole
One of the most important windsurfing schools is located on the north coast. Right here you can test yourself with a private lesson, learn the basics of the sport or improve your sailing technique. What's more, you will experience the magic of doing it at dawn: visualise the deserted beach, the wind coming from the north, the flat water and the breathtaking panorama all around. Not a bad start to the day, eh?
From the age of 16.
Sunrise lesson for two
Also in Nago-Torbole, on the north coast of Lake Garda, you can book a lesson for two to work with the instructor on certain aspects of your style, or on the basics of windsurfing if you are a beginner.
From the age of 16.
Sunset lesson for one or two people
The counterpart to sunrise classes are, without a doubt, those at sunset time. There is no need to insist, to convince you: pure relaxation, to leave behind a busy day and end it in the best way possible, moving through nature and enjoying a view of the extraordinary colours with which the lake is coloured in the evening.
In addition to the single lesson, you can also opt for a couple's lesson. In this case, there is also the opportunity to have an aperitif on the beach: a different idea for spending time with your partner, a friend, or a family member.
From the age of 16.
Windsurfing for children and adults
At the VDWS water sport centre in Campione del Garda we offer a private lesson open to everyone from 6 years of age. With qualified FIV and VDWS instructors, you will be in the best of hands and will be able to concentrate solely on practising the sport.
What windsurfing experiences with NowMyPlace include
Through NowMyPlace you can book windsurfing courses on Lake Garda and lessons at any level organised by an official VDWS (Verband Deutscher Wassersportschulen e.V.) centre school. This is a company that has been involved in this type of activity for twenty years and is therefore a guarantee of excellence and reliability.
Rental of the necessary equipment is always included in the lessons. In all activities you will be in the company of qualified and experienced instructors, as your safety is just as important to us as your satisfaction and enjoyment. So whether you are a complete beginner or already an experienced windsurfer, you can be sure that you will always be in good hands.
With NowMyPlace, windsurfing on Lake Garda will provide you with well-being and adrenaline, far away from the city.