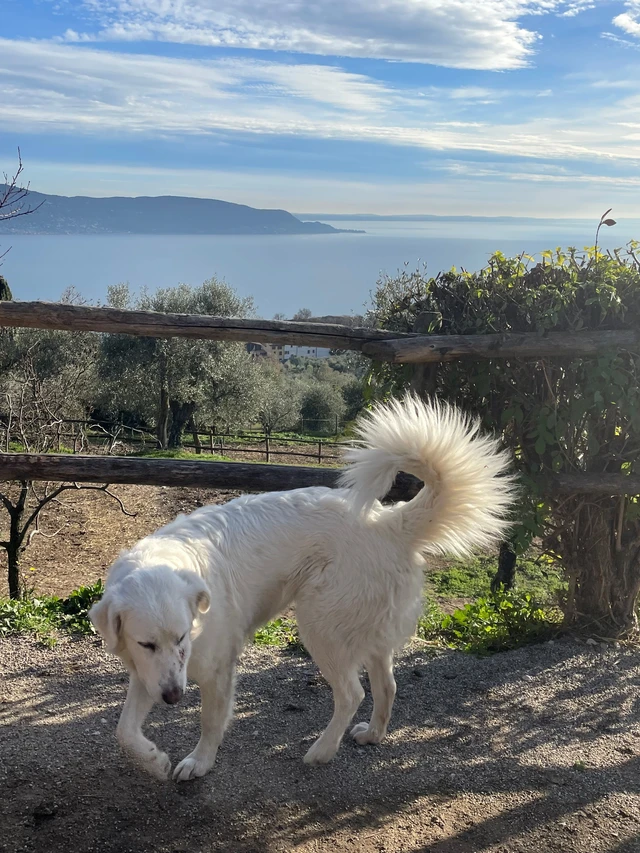 Holidays with your dog on Lake Garda: accessible places
According to the Rapporto Italia 2022 by Eurispes, more than 44% of Italians have a dog, a beloved companion and also widespread in the rest of Europe, in about 24% of households, from the 2020 data. Dogs are not only our best friends, but also faithful travelling companions, as witnessed by the boom in recent years in the pet-friendly tourism and the facilities sector. There are those who choose their destination based on the availability of space and experiences with their pet, and those who perhaps already have in mind where to go and opt for places surrounded by nature. What about holidays with your dog on Lake Garda? This lake, visited every year by a very large number of tourists, is also attractive for those who own a four-legged friend: let's take a look at some tips for where to go.
Holidays with your dog: what are the rules for travelling in Europe?
First of all, it is useful to remember that in Italy the regulations of the European Union (27 EU countries, Norway and Northern Ireland) apply with regard to travelling with pets (dogs, cats and ferrets). The regulations are valid for those travelling within the EU and for those travelling to the EU from a country or territory outside.
According to these regulations, each animal must:
have a microchip or tattoo for identification
be vaccinated against rabies
have undergone treatment against the tapeworm Echinococcus multilocularis, for risk areas (Finland, Ireland, Malta, Norway and Northern Ireland)
possess a valid European pet passport or an EU health certificate (the latter if travelling to a third country).
Holidays with the dog on Lake Garda: where to go?
Garda is undoubtedly a pet-friendly territory, where pet-friendly facilities and dog-friendly beaches abound, and can be found in every area. The presence of walking or trekking routes, of which the coast and the interior are rich, is also a fundamental element for those travelling in the company of their Fido.
There are numerous activities to enjoy, but it is always a good idea to check when booking that it is possible to take a dog with you, especially when it comes to organised group experiences. Photo trekking, forest walks or birdwatching, for example, such as those we have in the NowMyPlace catalogue, are not open to animals.
From the northern to the southern shores, however, there are many suitable routes to take with your dog: let's take a look at some areas where you can go on holiday.
Gargnano and the Upper Garda
The activities on Lake Garda are ideal to please the whole family, the group of friends or the couple, and in a large number of cases even the faithful furry friend. On the north-western shore, for example, you can visit the Alto Garda Nature Park, which includes the municipalities of Tremosine, Gardone Riviera, Tignale and others.
The Ponale Road, which arrives at the entrance to Valle di Ledro, is an easy scenic route open to all, from which you can enjoy spectacular views of the lake and coastline.
Also in Trentino Garda, the village of Arco with its church of Santa Maria Assunta and castle is a jewel not to be missed if you are in the vicinity.
Other recommended destinations, which are also accessible with your dog, are the Varone Waterfall Park, the Marmitte dei Giganti (glacial potholes formed by stone erosion) and the Torbole marina.
Salò and the Valtenesi
In the Brescia area of Lake Garda, you can enjoy walks and horseback rides to discover nature and villages, such as Limone sul Garda, from which many excursions depart. From there, you can visit the Sopino Waterfall, walk along the Via delle Cartiere and many other scenic roads.
A stop in Salò will allow you to relax on the lakefront and admire the gulf. You can then continue on to the Valtenesi, an area rich in history and tradition, with villages and castles, archaeological sites and the Rocca di Manerba Nature Park.
Desenzano, Sirmione and Peschiera
Why not take the opportunity to enjoy the dog-friendly beaches in the area, such as those of Desenzano, Sirmione or Peschiera del Garda? This is not the only activity you can do, however, as there are many sites open to animals, such as the Grotte di Catullo. Or, how about a walk on Peschiera's Ponte dei Voltoni, which crosses one of the city's canals, or the Ponte Pedonale?
In the province of Verona you will also find Monte Baldo, where you can immerse yourself in nature together with your dog. Pets are also allowed on the cable car connecting Malcesine with Monte Baldo (one dog per car, with muzzle and leash). Finally, in Villafranca di Verona, you will find the Museo Nicolis dell'Auto, della Tecnica e della Meccanica, where pets are allowed.
This is not an exhaustive list, of course, as there are many pet-friendly resorts and activities on Lake Garda, which proves to be an area where almost every traveller can find his or her own dimension, have fun and take home a fulfilling and unforgettable experience.
Where to go to Lake Garda with your dog? The advice of NowMyPlace
As we have seen, Lake Garda is a suitable place for travelling in the company of your dog, which can enjoy itself together with you and will find a home on many beaches, in hotels and agriturismi.
Some pet-friendly facilities are those that organise horse riding experiences with NowMyPlace in Soiano, Toscolano Maderno and other Garda locations. Giorgia's riding school, for example, in the Giudicarie Valleys, from where the outing starts with a stop at a farm in Trentino, the American-style ranch in the Valtenesi hills and the Gaino stable on the west coast.
With a few tricks and a little time at your disposal, you can organise a truly splendid holiday on Lake Garda for you, your friends or family, and your inseparable four-legged friend: you will discover lush landscapes and unspoilt places, calm shores in which the mountains are reflected and panoramas that sparkle with unique colours and reflections.