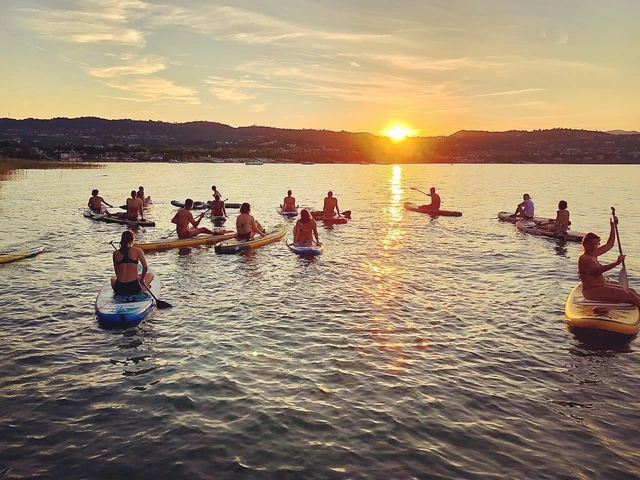 Do you enjoy water sports and activities by the sea or lake, yet you have yet to try stand-up paddle boarding? There are many reasons to do so: to begin with, our advice is to hire a qualified instructor who will help you familiarise yourself with this wellness discipline. SUP on Lake Garda, for example, will lead you to discover breathtaking landscapes thanks to a gentle sport, ideal for anyone familiar with the water environment. You can choose between courses to get closer to the practice, combine SUP with yoga, or opt for a sunset tour and end the day with an aperitif on the beach. Let's discover all the proposals together!
SUP on Lake Garda: courses, tours and aperitifs to enjoy a unique territory
Stand-up paddle boarding or SUP originated in Hawaii, around the middle of the last century, and has achieved considerable success in recent years. It is a versatile sport that is accessible to all: it can serve as a constant and continuous training for kitesurfers or windsurfers, but it is also a useful, relaxing and very fun activity for people who enjoy contact with water and nature.
Although it tests your physical abilities, as you need to learn how to balance on the board, SUP can be learned easily. That is why we have included it among the NowMyPlace experiences: SUP on Lake Garda will give you unforgettable moments, paddling along the shores of this world-famous stretch of water.
SUP courses on Lake Garda
As we have just mentioned, SUP can be learned in a short time even if you are not very familiar with other similar sports. For those approaching this activity, however, the first attempts should be guided by a qualified instructor: among the proposals of NowMyPlace to have fun paddling with stand-up paddle on Lake Garda, in fact, you will find lessons dedicated to small groups (maximum 4 people), on the west coast of the lake. Suitable from 6 years of age and open to anyone who can swim, they are the safest way to approach SUP and start practicing it without taking risks. The location is Campione sul Garda, an internationally renowned spot for water sports due to its strategic position on the water and the ever-present wind.
If you prefer larger groups, to SUP with your friends or get to know new ones, choose the Toscolano Maderno trip instead, which accommodates a maximum of 10 people aged 18 and over. This experience is also suitable for absolute beginners, with the only restriction being that you must know how to swim.
SUP on Lake Garda at sunset
Imagine paddling on the shores of Lake Garda in Brescia, still in the Campione area, whose wonders we have already extolled. Imagine doing it at sunset, in the orange light that reverberates on the surface of the lake and makes every landscape almost magical. An experience not to be missed, which you can enjoy by opting for a group SUP trip at sunset: two hours of pure relaxation, ending with a tasty aperitif.
There are many Instagrammable places on Lake Garda, including the gulf of Toscolano Maderno, as mentioned earlier, another of our SUP destinations. Just as in Campione, it is possible to opt for a group SUP tour, to immerse yourself all together in the richness of the lake area, recharge your batteries and enjoy the spectacle of the sunset on the beach.
Yoga SUP on Lake Garda with NowMyPlace
SUP helps tone the muscles of the entire body and allows you to work on balance, which also promotes calmness. One of its characteristics, however, is also being a soft discipline, just like yoga. The combination of these two practices has resulted in a successful combination that more and more people are choosing to try.
Doing yoga on a SUP board brings the benefits of both activities. The board can be used just like a mat, floating on the water and swaying slightly. Imagine the silence, interrupted only by the sounds of nature, the well-being provided by being close to the water, and the slow movements of yoga that relax the muscles and release tension in mind and body. A complete chilling-out! So why not do it at sunset?
We have chosen two beautiful locations for this experience. The first is Bardolino, in the province of Verona, where you can do SUP yoga on Lake Garda, not far from Peschiera, and secure a front row seat to watch the sunset, in small groups of up to seven participants.
The other is Desenzano del Garda, a tourist destination that is also renowned outside Italy, an area rich in history since it was already inhabited around 2000 B.C. and is also easily accessible by train. On the lakeshore, a professional instructor will guide you through the asanas, while Garda is tinged with thousands of shades.
SUP rental on Lake Garda
SUP requires little else besides a board, but it is the board that is expensive. Moreover, transporting it is difficult, given its large size (unless it is an inflatable one), and travellers almost always choose to rent it. You can also do this on Lake Garda, of course, but the risk is not to find availability, especially at the height of the tourist season. By choosing our experiences, you will not have to worry about SUP rental, as it is always included in all activities.
Why SUP and SUP yoga with NowMyPlace?
Lake Garda is a paradise for water sports and wellness activities. Among these are SUP and SUP yoga, which we offer in various packages: lessons and outings will allow you to approach or deepen a relaxing and invigorating practice, in complete safety, since you will always be accompanied by professional instructors. In the dedicated tab on our website, you will also always find detailed information on the age for participation, the number of people in the group, and any other specifics regarding the proposal: no surprises, just the pleasant ones that the Garda area will reserve just for you!