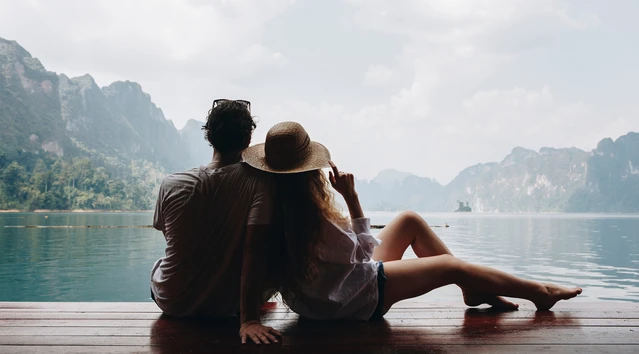 Would you like to spend a memorable holiday for two or an exciting weekend for two on Lake Garda? We have selected for you some exclusive activities, perfect for celebrating a special moment, which will amaze you by involving all five senses.
We've called it Just 4 You Two, our catalogue of experiences that will allow you to enjoy an intense moment for two, with intimacy and disconnection from the outside world.
Among the wellness proposals, we propose the wine experience in a hot-tub: a tasting of fine wine will be offered to you while you are immersed in warm water, perfumed with essential oils, of an old restored larch vat heated by wood. The wine experience is introduced by a sommelier who will present you with the bottle of wine selected for the occasion, accompanied by some house desserts prepared by the chef. You will then be left to your own private space and time, on the outdoor terrace of a splendid Valtenesi wine resort: a pampering in which refined tastes and scents mingle in contact with water.
Discovering and learning new things together, at Lake Garda. Trying your hand at something you know little about, throwing yourself into it, making mistakes in order to learn: this too can be a way of experiencing intimacy as a couple. The Cooking class at the farmhouse JUST FOR TWO is designed with this in mind: a traditional Brescian chef will accompany you on this "learning journey" in an atmosphere of conviviality and simplicity of times gone by. After harvesting the vegetables from the garden and putting your "hands to work", you will taste the fruits of your labour in the shade of a portico set up for the occasion in a historic farmhouse in the Lugana area, a DOC protected area inland from Sirmione. The dish will be accompanied by a fine glass of wine from the winery itself to toast your special taste experience.
Would you like to feel really chic for a day? Then we suggest a trip on board a RIVA with a skipper. This experience combines the elegance of a classic boat with the charm of a historic handcrafted product that is an emblem of Italian luxury. A plunge into the most beloved past, that of the Dolce Vita, to relive the emotions that marked an era of energy, colours and vitality, so representative of the Italian Bel Vivere and its Dolce Vita. Thanks to this sailing experience you can admire Lake Garda from exclusive spots, inaccessible to most, while sipping a romantic aperitif, a bottle of Franciacorta wine accompanied by fruit and music in the background. A sophisticated luxury experience to crystallise in your memory a magical moment of your life.
Those who enjoy the thrill of speed might prefer a luxury motorboat trip to discover the lake in total freedom, with the privilege of deciding the itinerary, the stops and the spots where to dive. The Luxury Mood is a tour that departs from Gargnano and leaves room for improvisation: you decide which locations and landings to reach. Ideal also for wedding declarations, the skipper can help you find the perfect wow spot to experience this precious moment of your life in a unique way. An experience that offers a taste of freedom and freshness, in total immersion in the natural environment of the lake.
If you prefer to stay on the mainland, we offer you an exclusive tour with a local wine guide: a journey through taste and scents, inspired by the philosophy of slow tourism. Along the way, with tastings of olive oil at the oil mill and wine at the winery with wine bar, our wine specialist guide will help you to notice the less obvious riches of the area you are visiting. An intense experience, rich in sensory stimuli, where the walk is enriched by the story of the denominations of origin, an intangible heritage in which our country excels.
All romantic, exclusive and authentic activities for a refined and tailored experience at Lake Garda, selected by those who really love this place. A moment of sharing with your partner and discovering yourselves, immersed in a unique context. To be experienced, just for two.