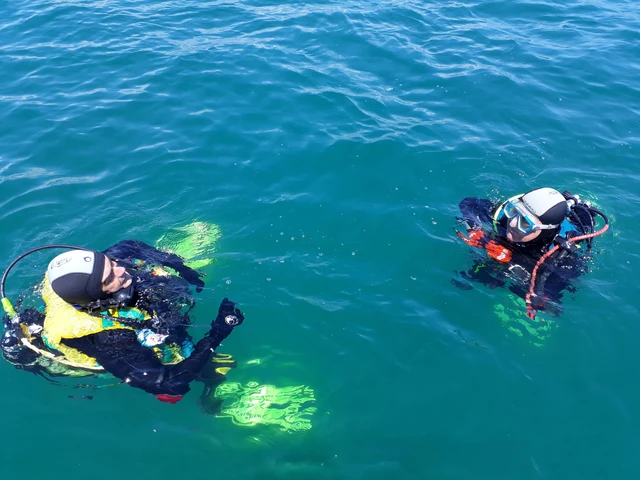 Diving on Lake Garda: the best places to go diving
Who has not wanted, at least once in their life, to explore the underwater world and its wonders? Many people, in their spare time, choose to devote themselves to diving and go in search of ever different places to discover, where they can put their skills and techniques learned to the test. In fact, exploring the seabed does not only include diving in the sea but also in fresh water! So it is no coincidence that, among the Italian destinations in which to dive, there is also Lake Garda: an area so rich in charm, history and geographical variability, a paradise for all those who love water sports, adrenaline and challenges.
So let's see which are the favourite spots for divers and how to practice this activity safely at Garda.
The fascination of scuba diving
Scuba diving is a sporting activity that allows you to explore the world underwater and enjoy a unique experience. It is a sport that requires proper training and the use of special equipment. It is therefore not just a matter of knowing the theoretical basics and breathing, but a lot of practice is needed to master advanced techniques. The psychological aspect is also very important and should never be underestimated.
One can dive in both fresh and salt water, in which one can discover wonderful landscapes, such as coral reefs, caves, wrecks and much more, depending on what characterises the place one is in. It is not only a visual experience, but also a sensory one, because the lightness of the body in the water and the almost total silence contribute to relaxation and well-being.
Diving courses and patents
To practice scuba diving safely, it is essential to follow a course in which theoretical and practical lessons alternate in a pool or shallow water. Instructors teach the main breathing techniques, give guidance on the use of equipment and safety procedures.
Patents certify the familiarity and level of competence in diving. There are different types: some are required to teach, others to participate in diving activities. More information on this can be found on the website of the Italian Federation of Underwater Activities (fias.it)
Often, it is the holiday at a seaside resort that provides the opportunity to obtain a licence: after contacting a school, all you need to do is have a few days available, provide the necessary documents, attend lessons and participate in practice. But the lake also offers the opportunity to put yourself to the test.
Diving on Lake Garda: some tips
As we have already mentioned, diving is not only synonymous with the open sea. Freshwater lakes are also suitable for diving, and Lake Garda is no different. There are also some schools in the vicinity where you can take a diving course.
There are many opportunities to explore the depths, however, scuba diving requires special equipment and an advanced level of experience. Due to the low water temperature (which at -30 metres fluctuates between 17° and 12° in summer) and the reduced visibility, this lake is not suitable for those approaching the sport for the first time, nor for people who are still unfamiliar with the practice.
Where to dive at Lake Garda?
Among the most recommended dive sites are Our Lady of the Divers, the Wreck and Il Presepe, all three of which are very popular with enthusiasts.
The Madonna dei Subacquei (Assenza di Brenzone, Verona) offers a spectacular view of the iron statue of the Virgin Mary, located at a depth of about 17-18 metres. The statue is illuminated at night and is very impressive.
The Wreck (in Malcesine, Verona), in the Val di Sogno, is an old ship visible from the surface, a 16-metre-long cabin cruiser that sank in 1987.
In Torri del Benaco, also in the province of Verona, there is instead a Nativity scene inside a cave 24 metres deep. On the Brescian coast, Salò is one of the most popular places for diving, while in the Trentino Garda area we find Tempesta, Porto San Nicolò, Calcarolle, and Assenza.
What is the best time of year to dive?
For diving at Lake Garda, the best time is between April and October, when water temperatures are milder and visibility in the water is better.
Diving at Lake Garda with NowMyPlace: another way to discover this paradise
Scuba diving enthusiasts from all over the world visit Lake Garda every year to dive in its waters, and if you too have been practising this activity for a while, it is a good idea to take a few days off to explore the Lake Garda seabed. It is important to remember that, precisely for the reasons we have mentioned (visibility and water temperature), diving at Lake Garda requires certifications, in some cases advanced ones. Before setting off, therefore, make sure that your certification falls within those accepted.
If you want to get to know Lake Garda in all its many facets, and have already practised diving at medium-high levels, with NowMyPlace you can dive in Salò and have the opportunity to move among canyons, gorges and freshwater fish: an experience to remember and to repeat with other friends or family members who share this passion of yours!
Diving activities in Salò
The Gulf of Salò is a starting point for many dives: it is, in fact, a place where the seabed slopes less steeply than in other areas of the lake. Being in the south, it also has a milder temperature than Alto Garda and the water is shallower. Last, and not least, is the light, which is more abundant than in the north. NowMyPlace has chosen the Gulf of Salò for its diving activity proposal: together with Maurizio, you can go diving from the beach. The experience is suitable for people of at least 18 years of age who have obtained a recognised diving licence.
If you already have your own diving equipment you can bring it with you, otherwise there is the possibility of renting it, requesting it at the time of booking. Scuba tanks, on the other hand, are always included.
Discover the water sports paradise with our activities
Lake Garda is among the favourite destinations of many water sports enthusiasts. Scuba diving, in fact, is just one of the many activities that you can enjoy while visiting this wonderful corner of Italy: put yourself to the test with a windsurfing or kitesurfing lesson, or try freeriding if you are already familiar with boards. Let yourself be conquered by an area that will always know how to surprise you!